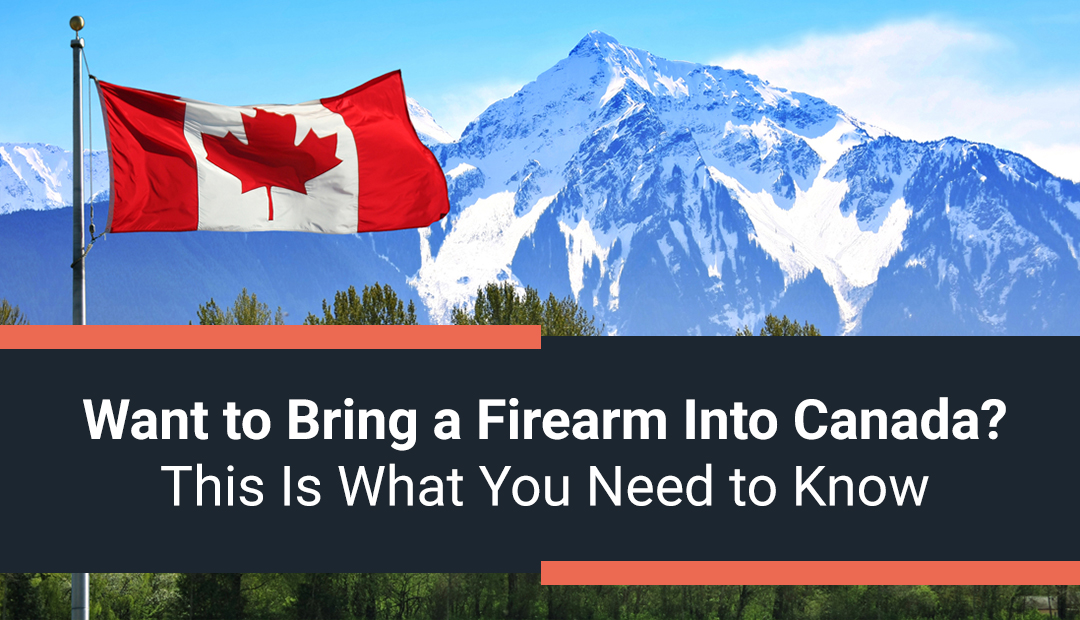 Are you an American or non-Canadian citizen? Have you ever wanted to bring your firearms into Canada?
**While travel has ceased during the coronavirus epidemic, at some point travel is going to open up again and this is important information for anyone who will be entering into Canada and wants to bring a firearm.**
There are countless reasons why Americans (or those from other countries) might want to transport their firearms into Canada. Perhaps you're making a permanent move, but don't want to leave your guns behind. Or maybe you want to take advantage of the fantastic hunting opportunities. Whatever your reason, beware: you can't just toss your firearms into your trunk and drive across the border!
Preparation Is Key
If you're planning a trip to Canada, it pays to start your preparation early. In the case of transporting firearms, we recommend starting the process about three months in advance.
If you come from a state that allows concealed firearms, you might forget that you have one on you when you attempt to cross the border. That would be a big mistake! Any guns confiscated at the border will be destroyed, so it's imperative that you either take the appropriate steps to transport them or leave them at home.
Do you have a criminal record? If you do, whether or not it has to do with gun-related violence, you may need to go through many more hoops to transport any firearms to Canada.
You must be at least 18 years old to transport your firearms. While you can bring a non-restricted firearm if you're a minor, you must pass a firearm safety course, have all of the required paperwork, and be accompanied by an adult. The adult will be legally responsible for the firearm during the duration of your stay.
Furthermore, your firearms must be transported in your vehicle in full compliance with all Canadian firearm safety regulations. These can vary depending on the type of gun, so be sure to do your research.
How Many Firearms Can You Transport Across the Border?
It depends on your situation.
If you are visiting Canada, the process is fairly simple. With the proper paperwork, you're allowed to transport three firearms across the border, provided that they aren't illegal in Canada. Just fill out the form, pay the fee in CAD (which can be less than you'd think, depending on the current USD exchange rate), and make sure the guns are safely stored for transportation. It's imperative to make sure that you have the correct form to declare your firearms and ammo at the Canadian border.
Types of Firearms
While you can transport many types of firearms into Canada, there are restrictions.
For the most part, you can take non-restricted firearms into Canada without too much hassle. You need to fill out a Non-Restricted Firearm Declaration Form. Do NOT sign the form until you get to the border. This form will also allow you to transport up to 200 rounds of ammunition, as well as purchase new ammo in Canada.
Restricted firearms are a slightly different matter. You will need to obtain an Authorization to Transport permit and a Non-Restricted Firearm Declaration or PAL. You must do this in advance of your arrival at the border.
Prohibited firearms should be left at home, as they are illegal in Canada and WILL be confiscated and destroyed.
Coming Back
Just because you have all of your Canadian paperwork in order doesn't mean that you don't also need to take steps to get your firearms back into the U.S. You will have to declare that you are "re-importing" your firearms when you reach the Canada-U.S. border.
You'll be required to provide U.S. border officers with your Canadian paperwork. You can also speed the process if you get a Certificate of Registration for Personal Effects Taken Abroad at a U.S. Customs Office before leaving the country.
Our Advice
Transporting your firearms back and forth across the border can be a huge hassle. If you mess up a single form, you could risk being turned away or having your firearms destroyed. That's why we highly suggest shipping your guns to your destination instead.
This is one of the advantages of purchasing firearms at a GTA Guns auction. Our U.S. customers don't need to worry about border issues, as we'll take care of everything. The guns will be adequately and safely packed and sent with a commercial carrier. Please note that you may need to pay for fees, shipping costs, and customs.
Incidentally, friction between Canada and the U.S. when it comes to transporting firearms is a VERY long-standing issue. For more information, check out this Canadian Heritage Minute!
At GTA Guns, we are proud to serve buyers on either side of the border! If you'd like to learn more about GTA Guns auctions, or any of our other services, please feel free to contact us. And please, take care when you're transporting your firearms across the border!