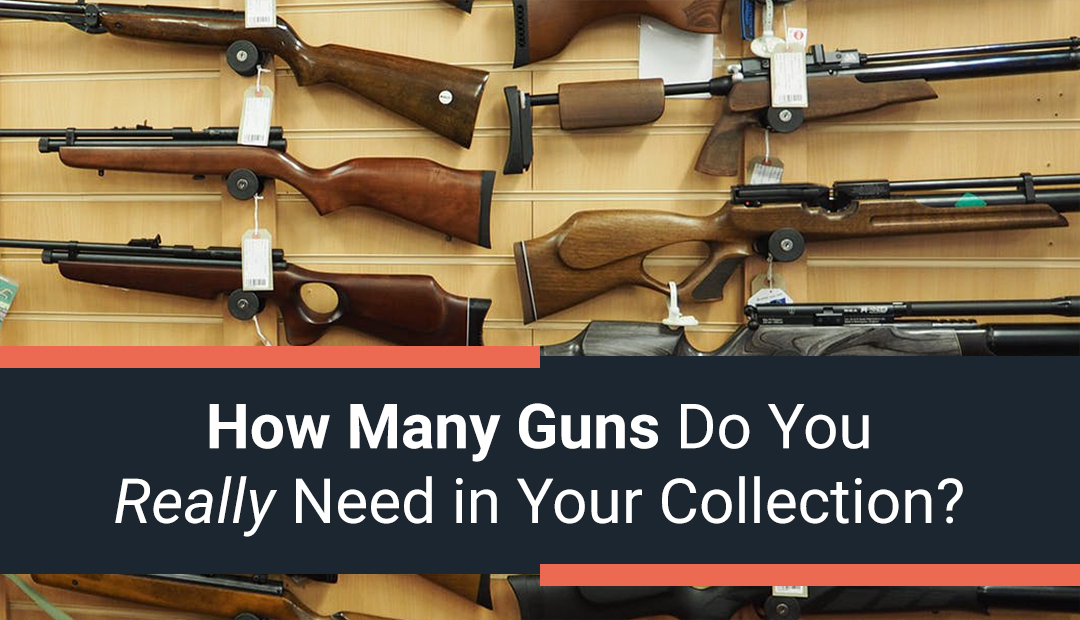 Have you ever watched a hoarders reality TV show?
These shows are usually an odd mix of pure entertainment and cautionary tales. They star ordinary people who have houses, lives, families… and way, way too much stuff. Their homes are completely overstuffed with random items—both things of value and things that are literal garbage. In the average episode, a professional organizer comes in and helps the hoarder get rid of the insane clutter and take back control of their life and space.
Now, while you likely don't have a hoarding problem when it comes to firearms, there are collectors out there who have built massive collections that have exceeded the space they have to store them. They may literally have hundreds of firearms in excellent condition, some of them even super valuable! Even if they want to cut down on their collection, it can be a huge hassle—the #1 reason being that they don't know how to do it.
Most professional collectors know that selling their firearms at a gun store is basically asking to be ripped off on the sale price. While selling their firearms privately might bring in more money, putting hundreds of items up on gun forums can be very overwhelming (not to mention potentially dangerous). That being said, both of these options would be preferable to amnesty gun programs where the collector would get nothing for their valuable collection. On top of that, the guns they hand over would likely be destroyed soon after. That's just unthinkable.
So, how can these collectors (you?) downsize their collection in a way that's easy, stress-free, and will bring in a ton of money? Have you ever considered making money by auctioning your guns?
What Are the Advantages of GTA Guns Auctions?
Auctioning your unused guns for cold, hard cash is, by far, the best way to handle downsizing your firearm collection.
Ever since we moved our auctions exclusively online, we've seen a massive increase in the number of people who attend them. Today, we get hundreds upon hundreds of people all over North America who log in regularly to take a look at what's available at auction each month. And believe us, their eyes will bug out when they get a look at your extensive collection!
Do you want to know how easy it is to list a firearm with GTA Guns? First, you safely transport it to our physical location to be put through our GUNCHECK™ or CYCLECHECK™ services and, well… that's it. We take it from there!
We will securely store your firearms until the auction, create a page for each item, and put up the photos that were taken during the GUNCHECK™ process. All you have to do is sit back and check the auction site to see the sale price on your guns going higher and higher.
And that's not all—once your guns are sold, you don't have to worry about paperwork or transportation. We sign everything and safely get the purchased firearms to their buyers. The only thing on your to-do list is to relax and wait for the money to come into your bank account. That's the beauty of making money by auctioning your guns!
Another Option
But what if you don't want to downsize your collection? If you're running out of room in your home, might we suggest some off-site storage?
With GTA Guns Secure Storage options, you can be sure that your collection will be in the best of expert hands. Our fully-insured storage facility is monitored 24/7 to protect against theft and is kept at an optimal temperature and humidity for firearms storage. Plus? You can get access to your guns with a single phone call to us! This way, you can keep all of the pieces you want close to you in your home, with the rest of your valuable collection stored away within "arm's reach."
These are just a few of the services we offer at GTA Guns. If you've ever been curious about how much your collection is really worth, you can get it appraised by our Gun Appraisal Services. If some of your pieces need maintenance, our Gunsmithing Services will make them like new! Whatever your firearm needs, we strive to meet them!
If you'd like to learn more about GTA Guns auctions, or any of our other services, don't hesitate to contact us about any questions you may have. We're the best option for making money by auctioning your guns!