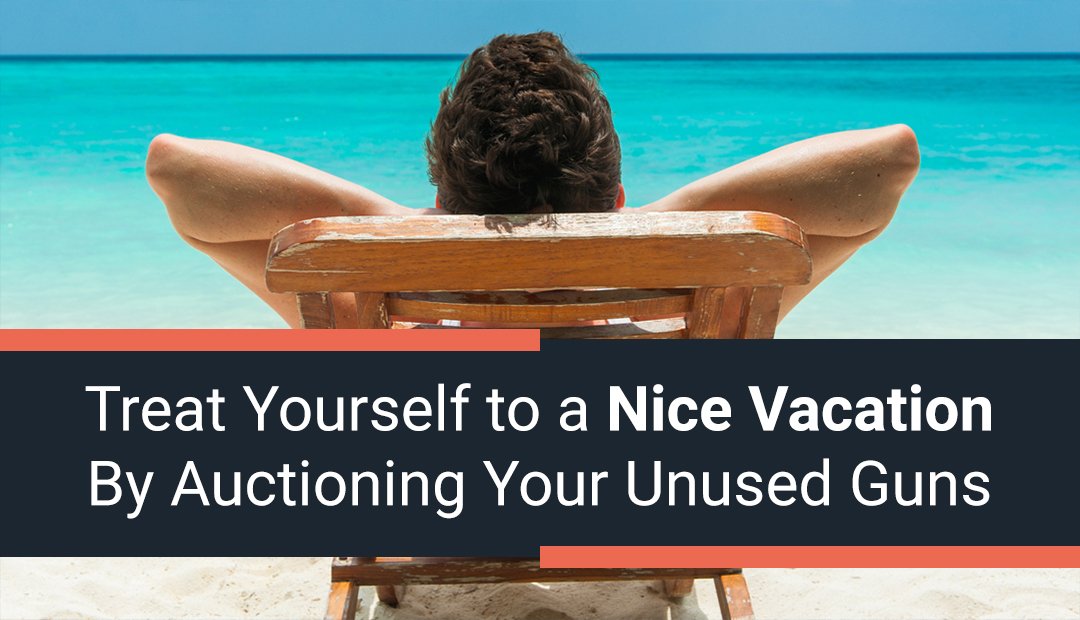 When was the last time you took an incredible vacation?
We're not talking about a weekend away at the cottage (although that DOES sound nice). We mean the kind of vacation where you take countless photographs so you can remember it forever. We mean a holiday where you think that nothing will ever top it! Those vacations can be few and far between, and not just because they can cost an absolute fortune to go on.
But a once-in-a-lifetime trip might not be as out of your reach as you may think. You could be relaxing on the beach, far from the stresses of your life, in no time. How? Look no further than your firearms collection!
Why Should You Auction Your Guns?
Auctioning your unused guns is a surefire method of getting cash fast. Unlike taking them to a gun store or trying to sell them privately, when you auction your guns, you don't have to worry about being ripped off.
Selling them to a used gun store will net you about 50% of what they think the gun will sell for. Expect low balling. And selling privately having strangers doing gun deals at your home is just plain scary.
Thankfully, it's super easy to auction your guns in the GTA, so long as you have the right partner behind you. Our online auctions attract a giant pool of buyers from all across North America, all of them wanting to add the perfect piece to their collection. It's an ideal situation to get the best price possible for your firearms!
What Are the Benefits of Auctioning Guns?
You might have buried treasure in your firearm collection that you don't even know about! That gun your grandfather willed to you 20 years ago might be worth a fortune to the right person—you just don't know. That's one of the reasons why we offer Gun Appraisals. If you're going to be listing your firearms in a GTA Guns auction, you need to know how much it is likely to sell for. After all, there are bargains to be found in every auction, but we don't want people to be almost literally giving their guns away.
The quality and condition of your firearms will also play a big role in the final sale price. Before your firearms are listed, they go through our GUNCHECK™ service. We check every aspect of the firearm to make sure it's in full working order. Not only that, we provide you with internal and external photos that will be posted on the item's page. This will allow potential buyers to see the gun's condition for themselves. We have a reputation for selling high-quality firearms through our auctions, and GUNCHECK™ is one of the reasons why.
We also have our CYCLECHECK™ service for semi-automatic guns, making sure that they are in full working order before posting them to the auction website. This is just another way that we ensure you'll be getting top prices for your collection!
What Do I Have to Do?
The first part is the most difficult: you need to select the items in your collection you want to sell.
Our advice would be to carefully consider if you want to let any firearms go that have real sentimental value to you. Just because you could get big bucks doesn't mean certain firearms wouldn't be worth more to you stored in our safe storage facility. Instead, consider auctioning guns that you haven't used for a while. If they are only going to be sitting there collecting dust, it might be better to sell them and use the resulting funds for the vacation of your dreams! (FYI, firearms should NEVER be collecting dust; they should always be stored in an environmentally-controlled space.)
After you've selected the guns you want to sell, you only need to transport them to GTA Guns and… that's it. We also offer a pick up at your home service. We take care of everything else from that point forward. We make a sales page on the auction site, keep the firearms safe until the big day, and even transport them to the winning bidder. You don't have to worry about the paperwork either. All you have to do is sit back and wait for the money to come into your bank account.
If you've been thinking about taking some time off for a vacation but are worried about how much it will cost, then GTA Guns offers you the ideal solution. Auctioning your unused guns will not only streamline your collection in a stress-free way, but it will also give you some extra money in your pocket for the trip! It's a win-win!
If you'd like to learn more about GTA Guns auctions, or any of our other services, don't hesitate to contact us about any questions you may have.