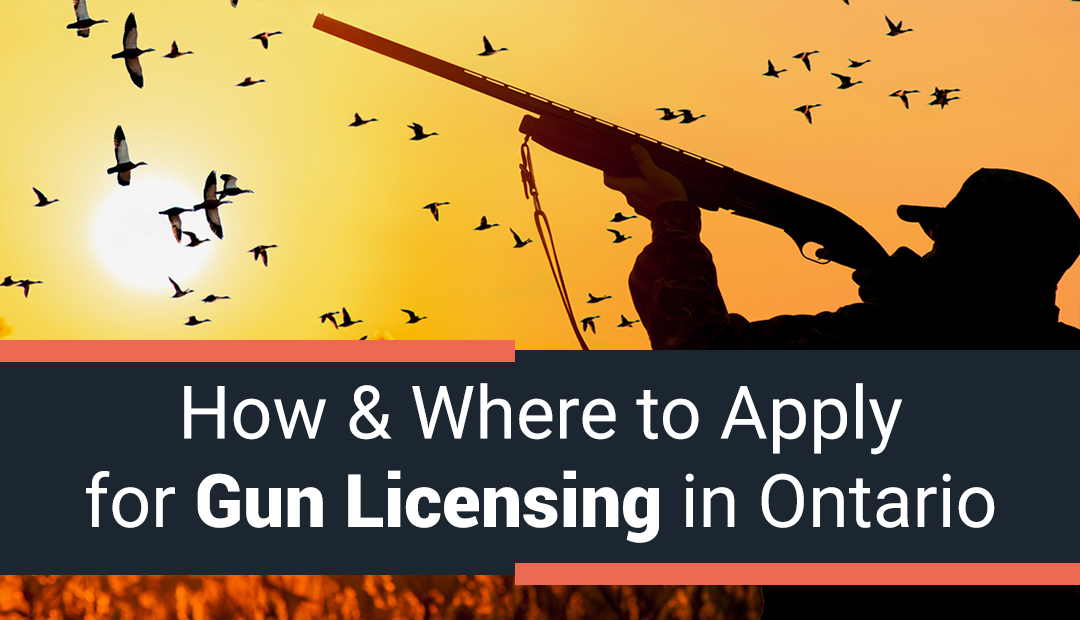 Are you looking to buy firearms in Ontario?
Firearms in Canada can be categorized in one of three ways:
Non-restricted (e.g.: most modern hunting firearms including rifles and shotguns)

Restricted (e.g.: primarily handguns)

Prohibited  
In order to acquire non-restricted firearms and ammunition in Ontario, you must be the holder of a valid firearms possession and acquisition license, or "PAL" for short.  
The Canadian Firearms Safety Course and the Canadian Restricted Firearms Safety Course and examination are required for those individuals who wish to apply for a Possession and Acquisition License (PAL). Each province has its own delivery method for the Canadian Firearms Safety Courses. In Ontario, each instructor delivers the course directly to the public. They set their own prices and do most of their own administration.
Here is a step-by-step guide on how to go about the licensing process, so you can legally obtain a firearm.
Step 1 – Safety Course
The first step to legally owning a firearm is taking the Canadian Firearms Safety Course (CFSC). The CFSC was developed in conjunction with the provinces and territories, national organizations with an ongoing interest in firearms safety, and many firearms and hunter education course instructors from all over the country.
In addition to the CFSC, you may also take the Canadian Restricted Firearms Safety Course (CRFSC). Taking this course will allow you to possess restricted firearms, like handguns and restricted rifles.
Topics covered in the safety course include:
the evolution of firearms and the major parts, types, and actions;

basic firearms safety practices;

ammunition;

operating firearm actions;

safe handling and carry procedures;

firing techniques and procedures;

care of firearms;

responsibilities of the firearms owner/user; and

safe storage, display, transportation, and handling of firearms.
Each course takes about one day to complete. The exam (discussed in Step 2) is usually given at the end of the course by the instructor. There is also the option to challenge the exam, which means writing the exam without taking the safety course first. But even if you have experience with firearms, we highly recommended that you study the safety videos and safety course print materials regardless.
For a list of instructors and testing locations in Ontario, click here.
Step 2 – Safety Exam
The Canadian Firearms Safety Course Exam tests you on the material taught in the safety course. It's composed of two parts: a written multiple choice section and a practical firearms-handling component. There is no live-fire testing.
The written part of the exam contains 50 multiple choice questions. In order to pass the exam, you must answer at least 80% of the questions correctly.
In the practical part of the exam, applicants must handle at least three types of firearms under a variety of different conditions. If an applicant points a gun outside the designated safe area, exercises poor trigger finger discipline, or tries to load the incorrect ammunition, points will be deducted. For this part of the exam, you'll also need a minimum passing mark of 80%.
Step 3 – The Application
Once you've completed Steps 1 and 2, it's time to fill out the firearms license application.
If this is the first time you are applying for a firearms license, use this form.
It takes the RCMP a minimum of 45 days to process a firearms license application. Processing involves many different background checks and, in certain cases, in-depth investigations.
Step 4 – Waiting Period
In addition to processing your application, there is a minimum 28-day waiting period for all applicants who do not currently possess a valid firearms license. After the waiting period is complete, the license should be issued without further delay.
Step 5 – Authorization to Transport (restricted firearms)
For those who wish to acquire restricted firearms (e.g.: handguns, short-barreled semi-automatic rifles, etc.), there is additional paperwork that needs to be completed. For example, to transport a restricted firearm to the range, an Authorization to Transport (ATT) must be acquired.
In Ontario, handgun owners apply through their shooting clubs for a long-term ATT, which allows the owner to transport the gun to and from the range. Typically these Authorizations expire within three years of being issued.
Once you have obtained your valid PAL license, make sure you visit us at GTA Guns! We provide a wide range of services for both firearms sellers and buyers. You'll be able to take advantage of our straightforward and transparent processes, which make it quick and easy to legally purchase or sell guns and related equipment. We also offer gun appraisals and safe long and short term storage for your firearms.