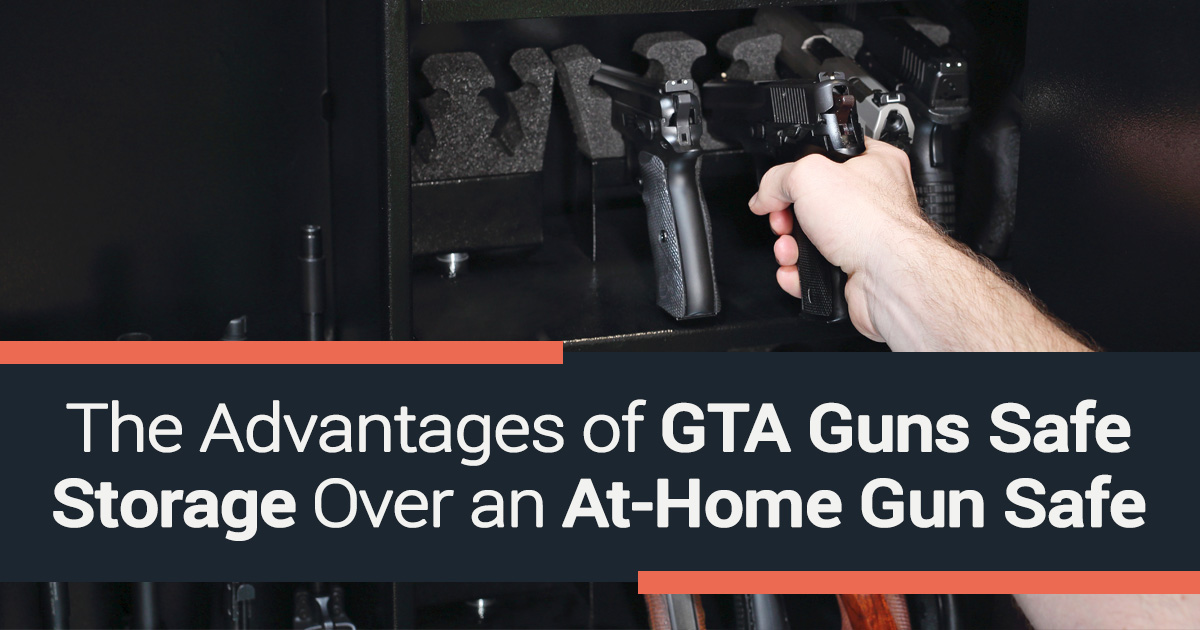 How do you store your guns when you aren't using them?
Well hopefully, your number one answer is that you store your guns safely! But that's just the beginning. When you're storing firearms at home, there are so many things you need to take into consideration to make sure your guns are actually being stored securely.
At-Home Gun Safes
Many people opt to store their guns in an at-home gun safe. Gun safes are the most secure at-home gun storage option for the average gun owner, with a no-frills safe being a much better storage option than other forms of storage, such as trigger locks, gun cases, or gun cabinets.
Gun safes are typically very heavy and come equipped with complex locking mechanisms to ensure that no one will be able to get in without the key or code. Plus, there's usually an option to bolt the safe directly to a concrete slab, making it much more difficult for potential thieves to take the entire safe with them. There are also more expensive and elaborate gun safes available that have specially designed racks and lined interiors to help protect your firearms' finish and prevent moisture buildup.
One of the most important decisions you need to make is where your safe will be located. For instance, many gun owners keep their firearms in the basement. Although this might seem like the right place for storage, you need to keep in mind the particular demands of gun storage. Basements can be damp, which can cause mildew and mould to grow on your guns. Or, even worse, your guns might start to rust. Uh-Oh! What's more, basements are notorious for flooding, which could damage your guns beyond repair if your safe isn't completely waterproof.
And yes, sure, some gun-safes are flood-proof and prevent dampness from seeping in, but the better your safe is, the more it's going to cost. A proper gun-safe could run you well over $2000.
Ok then, what about storing your guns in the attic?
Once again, there are hazards you need to think about, such as natural disasters. What happens if a hurricane hits? And no matter where your gun safe is located, there's always the potential for fires. In fact, home fires start every 60 seconds, resulting in billions of dollars of property damage annually. That damage could include your firearms.
So, not only do you need to find a dry and secure storage option for your guns, but you also need to keep fireproof storage options in mind – and like we said, that could get expensive quickly!
In our opinion, what's the best, most secure way to store your firearms? With GTA Guns safe storage, of course!
A Fully Insured Facility
Not only is our storage area fully insured, but our entire facility is too. This means you don't have to worry about hurricanes, fires, floods, or any other natural disasters. If anything were to happen, your gun collection would be fully covered, and you won't have to fill out any complicated paperwork.
We strive to ease all of your worries and take care of everything that might be an issue when it comes to gun storage. When you store your guns with us, their safety is our problem, not yours. As experienced professionals, we cover all the bases in detail so you don't have to think about it.
A Fully Optimized Facility
In addition to being fully insured, we make sure our storage facility is optimized for the perfect storage conditions. That means your guns will be stored in a carefully regulated environment, maintaining a constant temperature and moisture level. This will keep them dry and safe, retaining their value and functionality.
In other words, there's no need to worry about mould or rust when you store your guns with us!
24/7 Surveillance
All gun owners understand the importance of making sure their firearms don't get stolen. With liability issues, a stolen gun can quickly turn into a legal nightmare. Fortunately, we monitor our safe storage facility 24/7, so theft is never a problem. Our clients love the peace of mind they get when they store their firearms with us.
Easy Access
We offer both short-term and long-term storage options to suit everyone's needs. Whether you're downsizing and don't have the space to store your firearms at home anymore or you're heading on vacation and want peace of mind while you're gone, we have a safe storage solution for every situation.
When you're ready to use your gun, all you have to do is call and set a time for pick up or drop off. Your firearms are easily accessible at your convenience and can be available whenever you need them—for the shooting range, hunting, or guns sports.
Contact GTA Guns
AT GTA Guns, we understand your passion for your firearms better than anyone! We know how much your gun collection can mean to you, both in terms of financial investment and the sentimental value and memories that might be attached to your pieces. When you store your firearms with GTA Guns, you'll know it's in good hands because we treat every gun as if it's our own.
So, if you have any questions about our safe storage options, our online auctions, or any of our other services, don't hesitate to reach out! We're more than happy to answer your questions and help you find the perfect storage solution for your firearm collection.