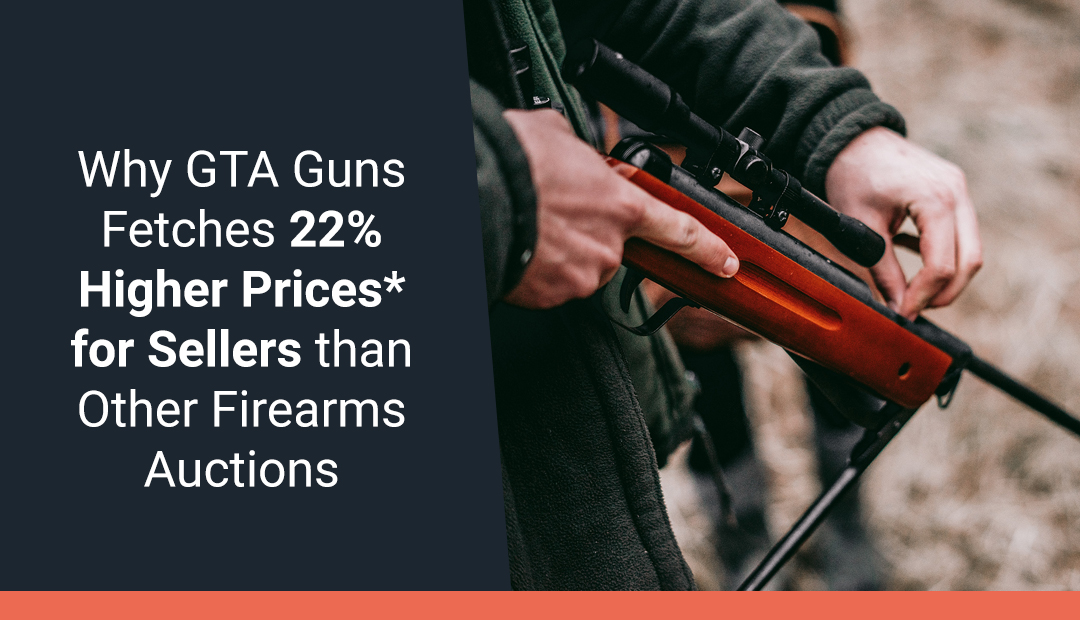 Do you want to get as much money as possible when you sell a piece from your firearm collection?
One of the biggest "selling" points for GTA Guns is that firearms sold through our auctions fetch an average of 22% more money than other firearm auctions*. So not only are you going to get a smoother experience and better customer service with us, but you're also going to be earning more money for your firearms. Win-win!
But why do firearms sold through GTA Guns auctions bring in higher prices?
Our Buyers Pool
Many firearm auctions are local. These auctions might be reputable and do their best to get you a high price for your firearm, but their small pool of local buyers limits the bidding. If there are only a couple dozen collectors looking at the items up for auction, the items will bring in much lower prices, if they even sell at all.
But since GTA Guns is entirely online, we deal with a huge buyer base that's spread out across North America. These Canadians and Americans are pros who know precisely the firearms they want, and they're not afraid to fight for them. This competitiveness can result in cross-continent online bidding wars for certain guns, driving up the prices. When you're selling something at an auction, the more bidders, the better!
Our Reputation
Over the years, GTA Guns has established a reputation for being one of the most trustworthy firearm auction services in North America.
Why? It all boils down to information. The more information buyers have about an item, the more they feel they can trust the listing—and at GTA Guns, we give them a TON of info.
Let's start with our proprietary GUNCHECK™ and CYCLECHECK™ assessments. When you hand us the item you want to sell, our gunsmiths put it through a rigorous inspection we call GUNCHECK™. Up to 9 high-resolution photos are taken of the firearm and put up on the listing page, giving potential buyers a detailed look at what they're bidding on. We then take a fiber-optic photo of the bore of the barrel, so buyers can see the internal condition of the firearm, including how it was maintained and how often it was shot. Think of it as checking the "mileage" of the gun.
Semi-automatic guns are put through our CYCLECHECK™ process, where they are test-fired to make sure they're in top shape. We then take a high-quality video and post it on the listing page to ensure that buyers know the firearm is fully-functional.
But this is only the start of why we have a fantastic reputation among our buyers and sellers!
Guarantees
One of the other ways that we protect you after a sale is by taking care of all the details. Once your firearm is in our hands, you don't have to lift a finger. We handle the paperwork transferring ownership to the winning bidder and even transport the firearm to them. Best of all, we handle any complaints if the firearm isn't in the condition the buyer expected.
The potential of getting scammed is one of the biggest drawbacks of online auction sites like eBay or private sales on forums. You might make more money, but there's a much higher chance that you'll get scammed. In these cases, you might send the item to the buyer, only for them to claim that it never arrived or that it broke in transit, demanding you to give them a full refund. With GTA Guns, we have two industry-leading guarantees to help both our buyers deal with these issues.
If a firearm arrives on a buyer's doorstep damaged in any way, they can send it back to us at our expense, and we will fix it (30-days max). If they receive the firearm and it doesn't meet their expectations, they can send it back to us and we'll list it on our next auction without any seller's fees (30-day max, hammer price $3,000+). Either way, it's out of your hands. You've already done your part by delivering the gun to us!
If you're still feeling nervous about listing your gun collection on GTA Guns, then why not just start with just one firearm? That will put some money in your pocket, plus you'll get to see just how easy and safe it is to sell your guns in our auctions. Remember, you're going to get an average of 22% better returns when you list your firearms with GTA Guns, so let's get started earning you some money!
If you'd like to learn more about GTA Guns auctions or other services, please feel free to contact us.