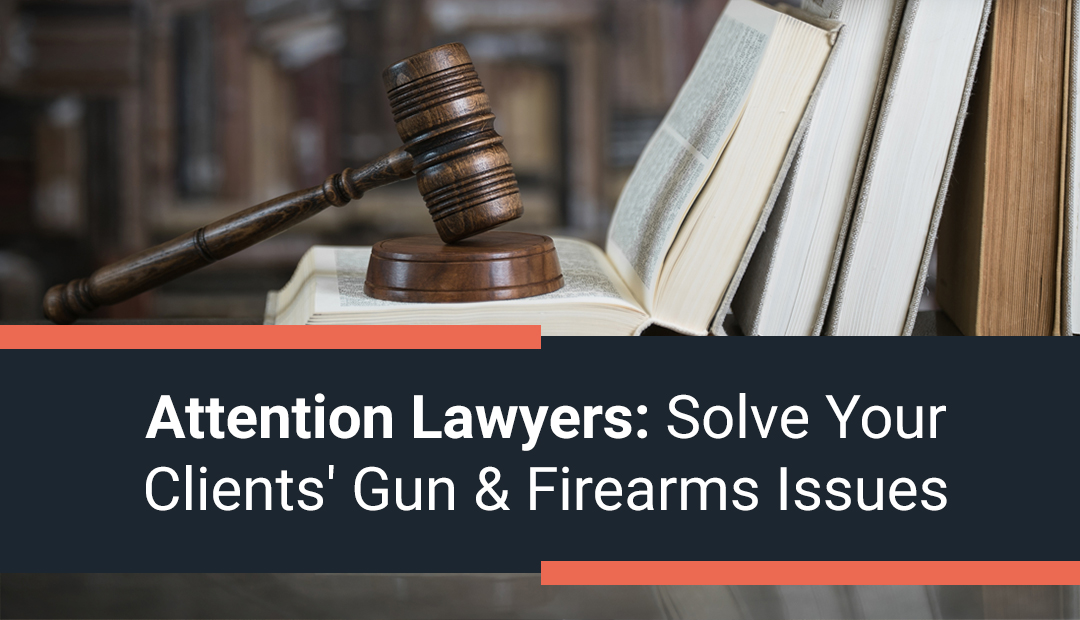 Lawyers: Do you have a client with a gun problem?
If you have a client with a gun problem of any kind, we're here to help.
Your client's firearm issue could include:
Owning an unregistered firearm
Not having a firearm license
Storing their guns in an unsafe manner
Executing a Will that includes firearms
Or you might need to advise an executor of an estate that includes firearms how to deal with the guns.
We help lawyers across Canada solve their clients' gun problems. We offer expertise in firearms and solve a number of gun issues including the ones we've just outlined.
Estates With Firearms
When there's an estate that includes firearms, things can get complicated. There are specific rules involved with bequeathing firearms to a loved one in a Will. And what happens if that person doesn't want the guns? How should an executor handle these situations?
At GTA Guns, we offer several services that will make your job easier by providing you with expert firearm services, experience, and advice.
Gun Licensing and Registering
If your client wants to own a firearm, there are two things they need to do—and we can help.
First, they need a firearms license. The process involves taking a course, an exam, and passing a security check. If you discover that you have a client who owns firearms but is unlicensed, we can help provide the resources they need to become legal gun owners.
Even if your client is licensed, they also need to register all of their firearms. If you have a client who "owns" an unregistered firearm, we offer our expertise with Canadian gun laws. We can help you and your client register the firearms to eliminate potential legal issues down the road.
Firearms Appraisal
Estate executors should have all firearms appraised to provide the cash value to the Canada Revenue Agency. Whether it's you as a lawyer or a widow or estate executor you're working with, all firearms must be appraised before probating a Will.
It can be challenging to find a licensed gunsmith who is well versed in all manner of firearms, including antiques. At GTA Guns, we offer comprehensive firearm appraisals. This service is an off-shoot of our Canadian firearm auctions, which is also useful for executors looking to liquidate the firearms. For an auction to be successful, bidders need to know the actual value of a gun, so this is an area where we specialize.
We guarantee fair and accurate assessment of the value of firearms with formal inspection and evaluation. We put every gun through our proprietary GUNCHECK™ and CYCLECHECK™ assessments to determine their exact condition. At the end of the process, we provide a report that includes the market and replacement value of the guns, along with all legal and equitable options for selling the firearms if that is the wish of the family.
Gun Storage
Some lawyers may encounter clients who are storing their firearms in an unsafe way. Similarly, if firearms are included in a client's Will, they must be securely stored as soon as possible after the time of death. Remember, in Canada it's never ok for a firearm to be sitting under a bed, unsecured. The firearm could be damaged or even stolen, and your client could be held responsible.
It's easy to store firearms safely with GTA Guns. We offer 24/7 security at our safe storage facility. It's a climate-controlled environment designed to keep firearms in their optimal conditions. When the guns are required, pick up of the guns can be easily arranged. Most importantly, our safe storage facility is fully insured.
Firearm Liquidation
The big question that many lawyers face is how to liquidate firearms for their full value? One option is to take the guns to a firearms store, but remember, those stores are looking to make a profit off their purchases. They tend to lowball the price, leaving sellers with less money than the gun is worth.
Some people try to sell the firearms privately, but this comes with a slew of risks, such as fraud. Your client might make what they think is a legal sale only to find out it wasn't, and that the firearm was later used in a crime. That would leave your client partially responsible.
The best way to liquidate a firearm collection is by online auction. At GTA Guns, experienced professionals handle every aspect of the sale. Our gun auctions attract buyers from across North America, giving us access to a massive market of collectors so your client will get top dollar for the firearms.
If you want the best results, you have to go to a professional. For legal advice, your client has you. For firearm advice, we offer our expertise. With our extensive experience, we can provide the information and services you need to serve your clients and help them solve their gun problems.
Here is an 82 second video that explains what I do at gtaguns.com –
https://youtu.be/V26kJljpnxU
Don't hesitate to get in touch if you ever have any questions related to firearms in Canada.
Gordon E. Siple, President
GTA Guns and Gear Inc.
(844)482-4644
gord@gtaauctions.com
gtaguns.com