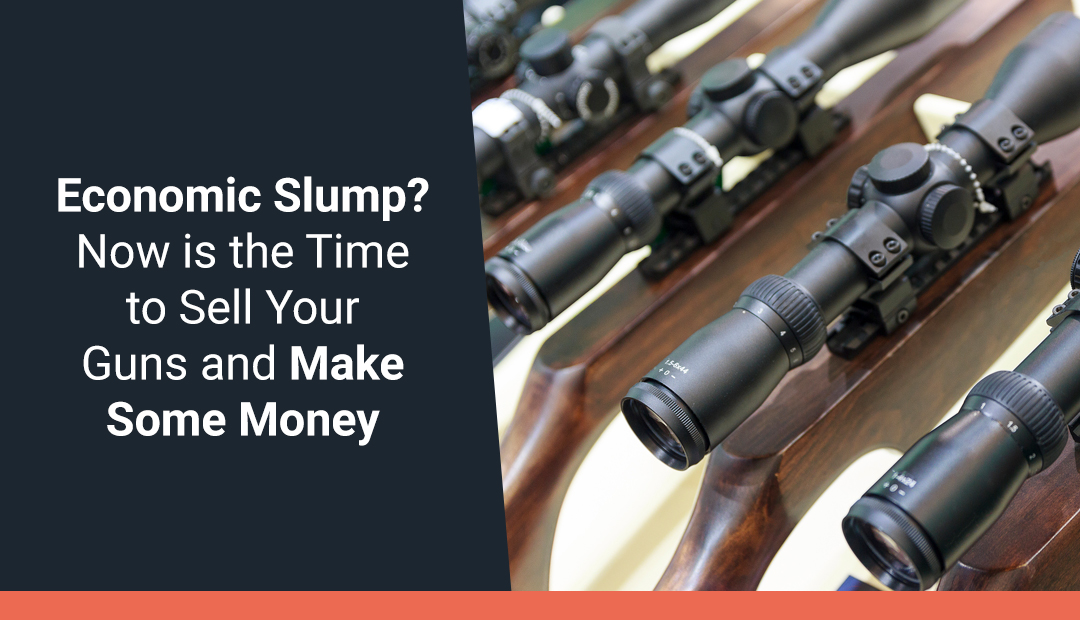 Have you been stressed out over the last few months?
The precautions to prevent a significant COVID-19 outbreak have taken a toll on all of us, and the current state of the economy isn't making things easier. With businesses closed across the country for months, travel suspended around the world, and an unpredictable stock market, Canada's economy has been hammered hard this year. Though businesses have started reopening, many people are still out of work, and depending on CERB from the federal government to get by.
If you're currently struggling with your budget, there is one way you can free up some money to help you through this challenging time: sell your firearms.
Your Gun Selling Options
When it comes to selling firearms, your method can make a big difference in the amount of money you walk away with.
For example, if you bring a firearm from your collection to a gun store, you're likely to get way less for it than its actual value. Gun stores need to purchase firearms for much less than they sell them, as that's how they make a profit. By selling to a firearm store, you could be walking away with a fraction of your firearm's actual worth.
Private sales might fetch you a better price, but they can be extremely dangerous. First off, you should never trust someone you don't know on the internet. Firearm sales through online forums are rife with scams, and that's the best-case scenario. Imagine if you sold a firearm to someone who used fake documents? If they use that gun in a crime, you could be held partially responsible.
When it comes to getting the most money for your firearms, you need the best of both worlds: A place that provides the safety of a gun store with the higher sales prices of private sales. In other words, GTA Guns auctions!
What Makes GTA Guns Different?
For one thing, it's in our best interest to get you the highest sales price possible on your firearms.
When you list a firearm through our online auctions, you're going to be selling to a huge pool of firearm collectors and enthusiasts across North America. No local gun store can match our buyer base. These pros will compete with each other to get the firearms they want, and that can mean bidding wars. The higher the bids, the more money you get!
Our auction site offers features that these collectors need to feel secure about their purchases. For example, every firearm listing has up to 9 high-resolution external photos of the gun, and one fiber-optic photo of the bore of the barrel. This ensures that every bidder can see the condition of the firearm for themselves. It's one of the ways we've developed a trustworthy reputation across North America.
Two other things that separate us from the pack are our proprietary GUNCHECK™ and CYCLECHECK™ assessments. When someone brings a firearm to us to sell on our auction site, our gunsmiths put it through its paces. With GUNCHECK™, the firearm is inspected inside and out, confirming its condition. With CYCLECHECK™, semi-automatic firearms are inspected to make sure they cycle. We then post a video of the gun firing on the listing to prove that it works.
Finally, we offer industry-leading guarantees. If someone purchases a firearm from us and it arrives damaged, they can send it back to us—we pay—and we'll fully repair it, no charge (30-day max). If someone is unsatisfied with their firearm purchase for any other reason, they can send it to us, and we'll put it up on our next firearm auction with no seller's fees (30-day max, hammer price $3,000+). With us handling the guarantees, you won't have to worry about dealing with an unsatisfied buyer. Your job is done! All you have to do is wait for the money to come into your account!
But Won't COVID-19 Get In the Way Of Firearm Sales?
With businesses closed across the country, you might think that firearm sales would be down. After all, with gun ranges closed, where can people shoot?
Since everyone's been stuck inside for the last few months, we expect this summer will be a big season for hunting. Everyone is going to want to head out into the woods to get away from it all. Now that Ontario (and other provinces) has relaxed regulations against camping and other outdoor recreational activities, you can rest assured that there will be lots of folks looking to hunt. And to do that, they're going to need firearms!
On top of this, businesses—including gun ranges—are finally reopening. These places are going to be packed after months of gun owners not being able to shoot.
All of this means that there will be a high demand for guns and lots of opportunities for you to make some money! Getting through an economic slump can be challenging, but by selling a few of your firearms, you can get through it without worry.
If you'd like to learn more about GTA Guns auctions, or any of our other services, please feel free to contact us.