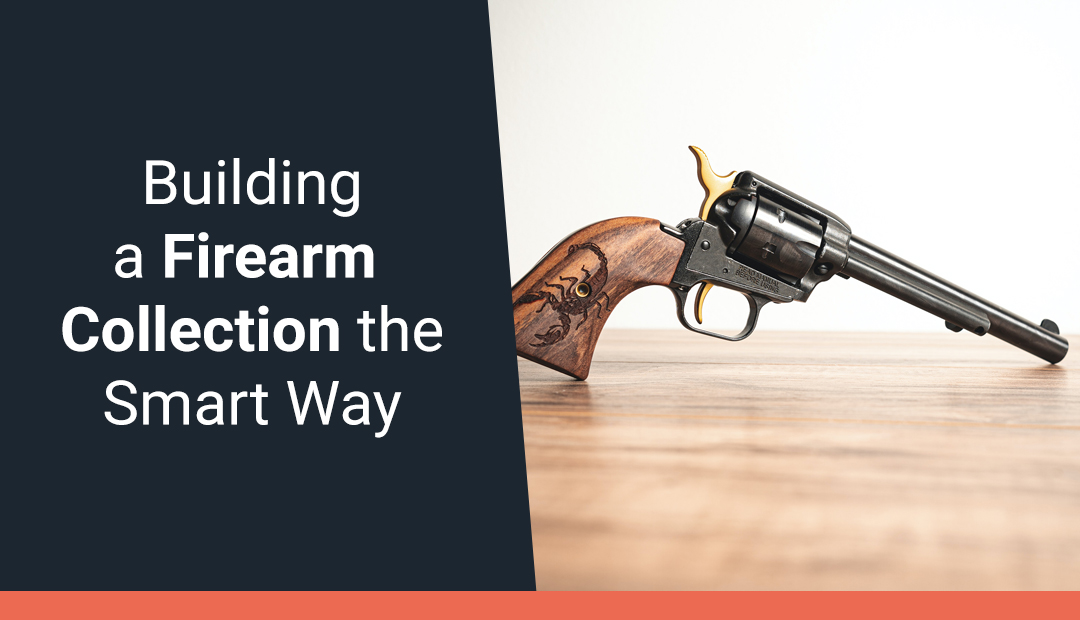 When you were a kid, did you collect comic books?
Or how about hockey cards? Maybe action figures? Do you fondly remember those days when you were looking for a missing part of your collection, celebrating when you finally found it? There was nothing like it!
When you become an adult, collections usually shift over to things that cost more money. Some collect art, some coins, and others… firearms! Firearm collecting is such a rewarding hobby—not only because guns are objects of beauty, but also because they're functional. Going out to a firearm range or hunting with a beloved piece from your collection can bring so much happiness, especially if you're sharing that experience with family or friends.
If you've been thinking about getting into firearm collecting, you may have noticed that it can be quite expensive, and this is especially true if you aren't collecting the "smart" way. Going to gun stores to look for the ideal firearm can quickly become very expensive, and uncovering a rare find can be challenging. What if you live in a more remote area where you don't have access to multiple firearm stores? How can you reliably build your collection?
That's easy: you do it the smart way—firearm auctions!
GTA Guns Online Auctions
At first, buying your guns online might not seem ideal. After all, you likely want to see the firearms yourself before purchase and inspect them to ensure they're functional and undamaged.
That's the danger of buying a firearm through gun forums or private sales: there's no guarantee of quality. If something goes wrong with the gun, the money has already been exchanged. That leaves you with a damaged firearm that could likely be repaired… but at your own expense.
But when you're working with GTA Guns, you have our buyers' guarantees on your side!
Every firearm we sell in our auctions has gone through extensive proprietary inspections we call GUNCHECK™ and CYCLECHECK™. Our gunsmiths assess all firearms to ensure that they're in perfect working order. In the case of semi-automatic guns, we do tests to make sure they cycle correctly. We then take high-resolution photos and videos of the firearms—both inside and out—so potential buyers can see the guns' exact condition. All of this information is posted on the firearms' auction pages, laid out so buyers can see precisely what they're bidding on.
We've worked hard to build a reputation known by gun collectors across North America. Collectors know they can trust a firearm purchased through our auctions. Why? Because the "seller" of the firearm has very little to do with the process.
As a buyer in our auctions, you're never dealing with the seller, you're dealing with us, and we take full responsibility for the sale. We aren't just the middleman, we're the ones who are doing all of the work of the sale, including shipping and post-sale customer service.
Once the seller drops the firearm off at our brick-and-mortar location, we're the ones who do the inspection, store the firearm, and ship it off to you after the sale. That's why we've put two buyers' guarantees into place so you'll be fully covered if you end up with a firearm you're unhappy with:
If you receive your firearm and it's damaged in any way, send it back to us—we pay for shipping both ways. Our expert gunsmith will repair the firearm free-of-charge (30-day max).
If you receive your firearm and it isn't what you expected based on the description and photos in the listing, send it back to us, and we'll relist it with no sellers' fees in our next auction (30-day max, +$3,000 hammer price).
The reason for these guarantees is simple: firearms are expensive. Creating a gun collection means investing a lot of money into these items. You need to get what you pay for—especially if you hope your guns will increase in value over the years. With our buyers' guarantees, you KNOW that what you bid on will be exactly what you end up getting. And if it isn't, we'll do whatever is necessary to make things right.
If you've been thinking of starting a firearm collection, it pays to do things smartly! GTA Guns firearm auctions offer collectors the soundest way to build their collections by getting the best value for the money. With our unparalleled guarantees, you can rest assured that you'll get what you pay for, along with several other services as well to help you with your collection.
If you're looking for rare pieces for your gun collection, we invite you to check out our high-priced silent gun auctions. And if you need somewhere to store your guns safely, check out our secure storage services. If you want to learn more about our online firearm auctions or other services, please feel free to contact us today!