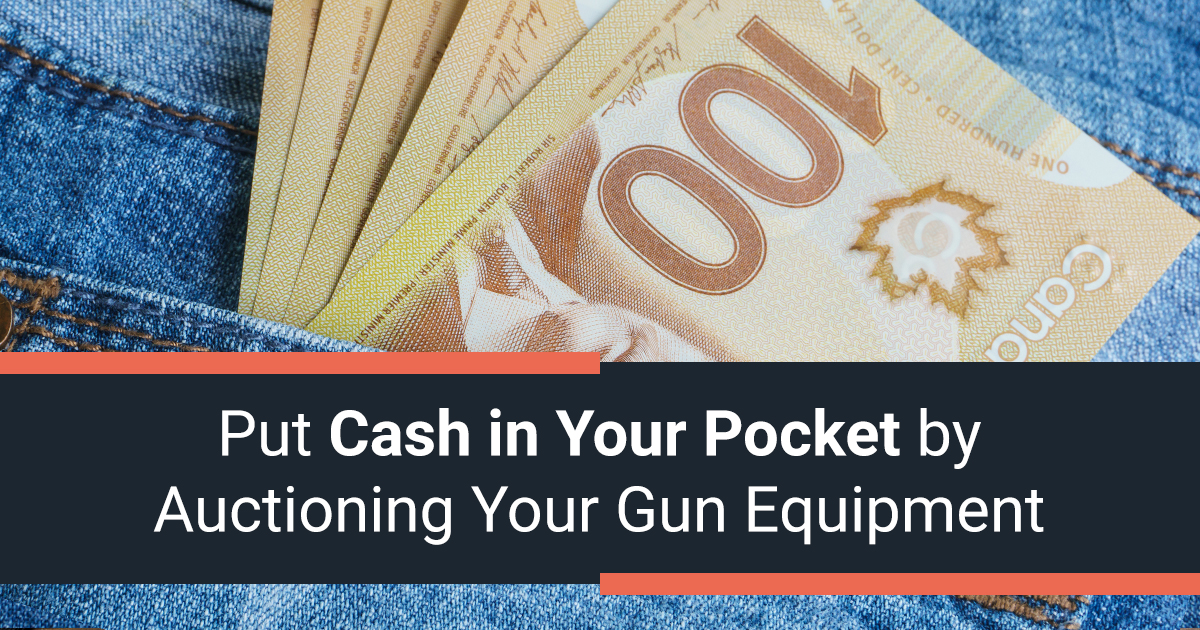 Are you looking to clean up some clutter and put some extra cash in your pocket? GTA Guns auctions can help!
That's right; our online auctions include not only a selection of fantastic firearms, but also an assortment of firearm-related accessories and equipment. They are the perfect way for you to get rid of any unused guns and firearm equipment that are cluttering up your home and collection.
From scopes, sights, and grips to holsters, ammo, and even hunting and camping knives, you can buy and sell more than just guns at our online auctions, giving you the opportunity to make even more money.
Our Online Auctions Reach More than 65,000 Buyers
Now that we've moved the "location" of our auctions to the internet, we've seen a flood of interest from serious buyers all across North America. Before each monthly auction, we send an enormous e-blast out to our subscribers, drawing in thousands of eager buyers who are ready to engage in a fierce bidding war that'll drive the price of your gun equipment higher and higher! This is sure to put some serious cash in your pocket.
We Treat Your Gun Equipment With the Same Care As Your Guns
Did you know that every accessory and piece of equipment we receive for auction is inspected and appraised by us? At GTA Guns, we strive to guarantee the value and functionality of all firearms and firearm-related equipment that we put up on our auction site.
Our buyers know that when they purchase a firearm accessory from one of our auctions, it'll be in tip-top shape. That means, as the seller, you're going to get more money for your gun equipment because our bidders are confident in the items they're bidding on. If they want to get their hands on the perfect piece, they won't hesitate to break the bank on their bids!
Selling Your Gun Equipment is A Stress-Free Process
One of the most significant issues with selling your gun-related equipment privately is that you're almost always going to get low-balled. It's hard to tell what the real value of your gun equipment is when all you have is the internet. More often than not, most people settle for what the buyer is willing to pay for it.
Fortunately, GTA Guns auctions solve that problem! Our team of expert gunsmiths will appraise your equipment, giving an honest opinion of its value based on years of experience. That way you'll feel confident that the cash that ends up in your pocket was the most money you could possibly get for your items.
We also solve several other common problems when it comes to selling your gun equipment. For example, you don't have to worry about scams or Fake PAL information. We transfer your gun equipment directly to the buyer once the auction is complete and the sale has gone through and take care of all the complicated paperwork. Best of all, you'll get paid within six business days following the auction; no exceptions!
Put Cash in Your Pocket Today
Everyone can use a little extra cash, especially in the summertime! Wouldn't it be nice to have the money to enjoy a day at the shooting range or a weekend of hunting? So, why wait? Auction your gun equipment with GTA Guns today. Whether you have a compound bow you no longer use, an unwanted gun sling, or other firearm accessories, you can be sure we have a buyer for you!
And if you have any questions about our online auctions, safe storage options, or any of our other services, our expert gunsmiths will be happy to help! Get in touch with GTA Guns to start making money!