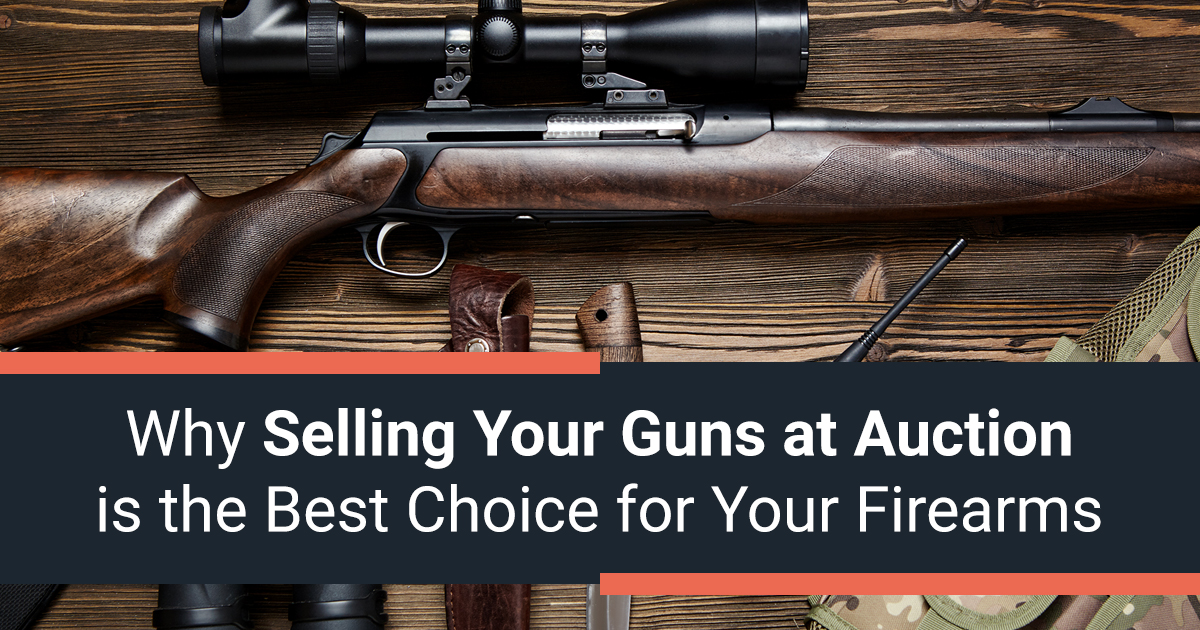 Are you looking to earn some extra cash?
As avid gun enthusiasts, we understand the love of a great firearm or firearm collection. We also know that it's no cheap endeavour. If you're not using your guns regularly, why not make some money by selling a few of your lesser-used guns at auction?
Listing your guns with GTA Guns auctions is the best choice for selling for your firearms! Here's why:
It's Much More Convenient
A traditional auction that supposed to last just ten minutes can eat into hours of your day? With a classic auction, you'll need to factor in transportation time, the time it takes to register and inspect the items, and then you have to wait around for the auction to actually start. That isn't even mentioning all of the time you'd need to sit there, waiting for the item you're interested in to be up for bidding.
But with GTA Guns online Auctions, all you have to do is log in from the comfort of your own home!
And here's a little secret: online auctions are more fun! You don't have to silently hold up a paddle or keep your poker face on. You can chat about your next bid with whoever's in the room. Online auctions allow you to debate, discuss, and do the math before you make your bid.
An online auction is exciting on your terms, in your house, the way you want it. Every decision can be a group decision to help you feel more confident bidding on the firearm of your choice.
There's a Better Selection
GTA Guns has a brick and mortar location right in the heart of the buyer-rich Toronto-area. This gives us direct access to hundreds of local enthusiasts who are always looking for the perfect piece. But it's our online auctions that have enabled us to reach the widest array of firearm aficionados.
In fact, GTA Guns auctions attract more than 65,000 gun lovers from all across North America! That means we have access to more potential buyers than anyone in the GTA, and maybe even all of Canada!
Now that our online auctions attract an enormous amount of interest from collectors all over the continent, we often see fierce bidding wars that drive the price of your firearms higher and higher.
Of course, when sellers get more money after a sale, they're prompted to auction off even more firearms and accessories, drawing in even more buyers who now have no shortage of great guns to bid on. This cycle is profitable for everyone involved!
It's a Hassle-Free Process
Have you ever tried to sell your gun privately? It can be a real headache!
Not only do you have to handle clueless buyers, figure out a time to meet with them, and fill out endless paperwork, but you can easily fall victim to scams. For example, a common scam happens when the buyer's Possession Acquisition Licence (PAL) information turns out to be fake, making you a potential accessory to a crime! Yikes!
That's not even mentioning the significant risk that you'll get low-balled since it's tricky to figure out the real value of your gun or gun collection based only on internet research or what a random buyer is willing to pay.
But GTA Guns auctions are the best choice for your firearms because we solve all these problems. When you auction your gun through our online auctions, we ensure the entire process is hassle-free and straightforward. We'll take care of all the required paperwork for you, and even transfer and transport the gun directly to the buyer.
What's more, you'll get paid within six business days following the auction — no exceptions!
We Let Buyers Inspect Your Gun
Another way we strive to get you the most money for your firearms is to allow on-site previewing.
From the time the auction is posted online until the Saturday preceding the auction, we allow all potential bidders to make an appointment at our brick and mortar location to conduct a full inspection of the gun or accessory they're thinking of bidding on.
This gives bidders even more confidence in the item they wish to purchase, which means even more money in your pocket.
We Offer One-of-a-Kind Guarantees
Another way we help make sure you're getting top dollar for your firearm is through our proprietary programs. Our GUNCHECK™ program puts all firearms through a round of careful inspection by a certified gunsmith. Further, all semi-automatic firearms are test fired and the video posted on the auction site. This we call CYCLECHECK™ verification service. At the end of the testing process, each gun receives a grade and a summary that outlines their exact condition complete with high-resolution internal and external photos that are posted to the firearm's auction listing page. This provides an extra layer of trust that helps bring in higher bids on the gun you're selling.
Plus, there's no additional charge added to the auction buyer's acquisition price nor the seller's fee for our GUNCHECK™ or CYCLECHECK™ services!
And that's not even all! We also offer a performance guarantee for all our buyers. If any gun purchased through our online auction doesn't work for any reason, the buyer can return it to us to be repaired, and we'll even refund the shipping costs (30-day maximum).
What's more, if a buyer is unsatisfied with any firearm bought at auction with a price of $3,000 or more, we put it back up for auction with no sales charge (30-day maximum).
All of these revolutionary services are free of charge for both the buyer and seller, which is yet another reason why selling your guns at auction is the way to go!
Sell Your Firearms at GTA Guns Auctions Today
So there you have it, five great reasons why selling your guns at auction is the best choice for your firearms!
So, don't wait! Get in touch with GTA Guns today to learn more about our online auctions, or any of our other services. We can't wait to serve you!