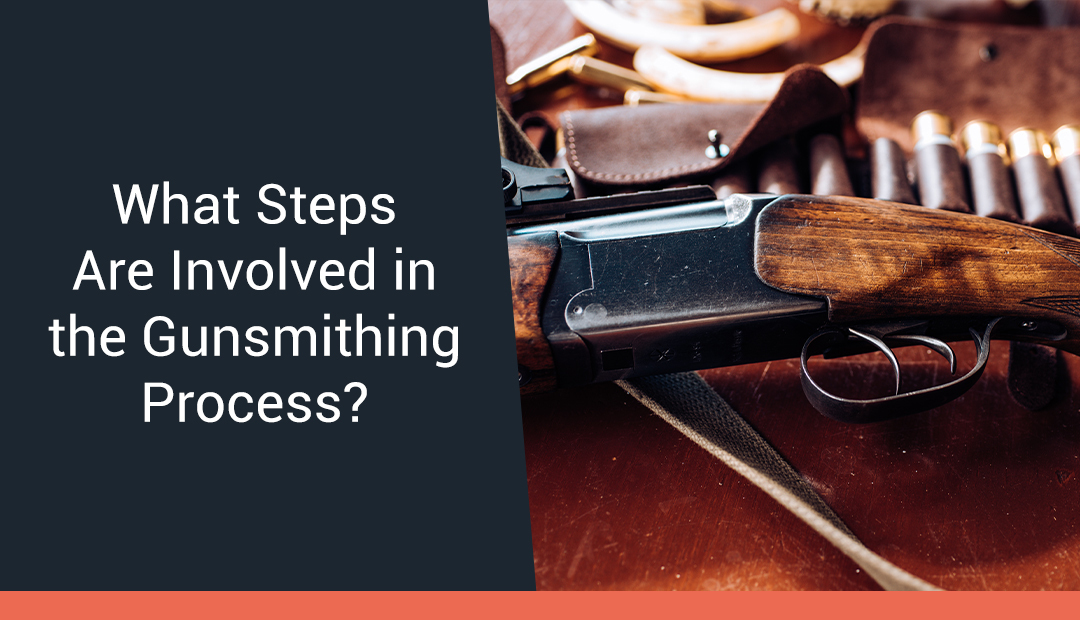 Are you interested in having your guns fixed, maintained, or upgraded?
If so, you'll need to hire the services of a gunsmith. A gunsmith can provide you with the gunsmithing services you need to maintain, update, or repair your firearms. 
But what are the steps involved in the gunsmithing process? And how long will it take to have your requested services completed? Keep reading to learn more about the gunsmithing process!
What Is Gunsmithing?
Gunsmithing is the art of repairing, modifying, designing, or building guns.
Whether you need to repair a broken firearm, want to improve a gun's aesthetics, need something as basic as a cleaning and test fire, or you're looking to blue a firearm, a gunsmith can do it all!
Gunsmithing is done by a gunsmith, an individual who is specially trained in the art of gunsmithing. It takes several years of study and apprenticeship to become a gunsmith. Additionally, a wide range of special tools are needed to work on firearms, all of which a good gunsmith should have on-hand.
When you hire a gunsmith to help repair or modify your firearms, you can rest assured your guns are getting the quality care and attention they deserve.
Our Gunsmithing Services
Located in Newmarket, Ontario, GTA Guns and Gear & Auctions is proud to offer a wide range of gunsmithing services to our clients, including:
Bolt Jeweling

Bend Bolt Handle

Trigger Work

Machine for oversized knob

Bluing

Matte/bead Blast Finish

Cerakote Black

Cleaning and Test Fire

Rimfire and shingle shot shotguns

Magnum rifles and odd calibers

Recoil Pads

Synthetic stock

Cutting stock

Wood stock

Stock Work

Epoxy-carbon fiber bedding

Standard glass bedding

Stock Repair

Barrel Free Floating the Stock

Drilling and Tapping

Other Repairs
The Steps In The Gunsmithing Process
So, what can you expect the gunsmithing process to look like when you bring a firearm to GTA Guns? 
1. Get Us Your Gun
First of all, before any gunsmithing can begin, we need your gun!
Once you have identified the gunsmithing service that you'd like, you'll need to contact us to arrange the services. We'll provide you with the information that you need to get your gun to our brick-and-mortar location in Newmarket.
2. Diagnoses
Once we have your gun, our master gunsmith will evaluate and diagnose your gun for any issues. Diagnosing your gun involves visual inspection and, occasionally, test firing it.
We'll always inspect and diagnose your firearm, even if you did not request a repair or maintenance service. This ensures that any issues with your gun are identified and addressed.
3. Gunsmithing
Next, our gunsmith will get to work on your firearm. His work will be guided by the services you select, so if you chose some aesthetic services like jeweling, he would begin bejeweling the exterior of your firearm.
In contrast, maintenance services like stock repair will be more interior repair-focused.  
4. Return
After work on your gun is complete, our gunsmith will carefully package your gun and send it back to you.
With GTA Guns' gunsmithing services, you can trust that your gun will be returned to you in a better condition than you last saw it!
Our Master Gunsmith: David Battison
So, who's the person at GTA Guns you are trusting with your precious firearms?
GTA Guns is proud to have master gunsmith David Battiston on our team. David first began his career as an apprentice at Giovanni's Gunshop. After exemplifying his high-quality work to the owner of GTA Guns, he was invited to join the business. 
Now, David is an expert at diagnosing, repairing, and upgrading all types of firearms. In fact, the rest of our staff here at GTA Guns use David to help repair and maintain our own personal firearms! 
So, whether you're looking to upgrade your favourite firearms, want to spruce up a plain old bolt, or are thinking about having a firearm jeweled, David can help. We trust his knowledge and expertise and know you can, too. In fact, we trust David so highly that any work performed by him comes with our satisfaction guarantee. If you're not satisfied, we'll make it right at no extra charge!
Gunsmithing is only one of the many gun-related services we offer at GTA Guns. Whether you're looking to buy or sell a firearm in an online auction setting, need a storage solution for the long-term, or want to know how much your firearms are really worth, our variety of gun services are exactly what you're looking for.
If you want to learn more about our online firearm auctions or any other services, please feel free to contact us today!