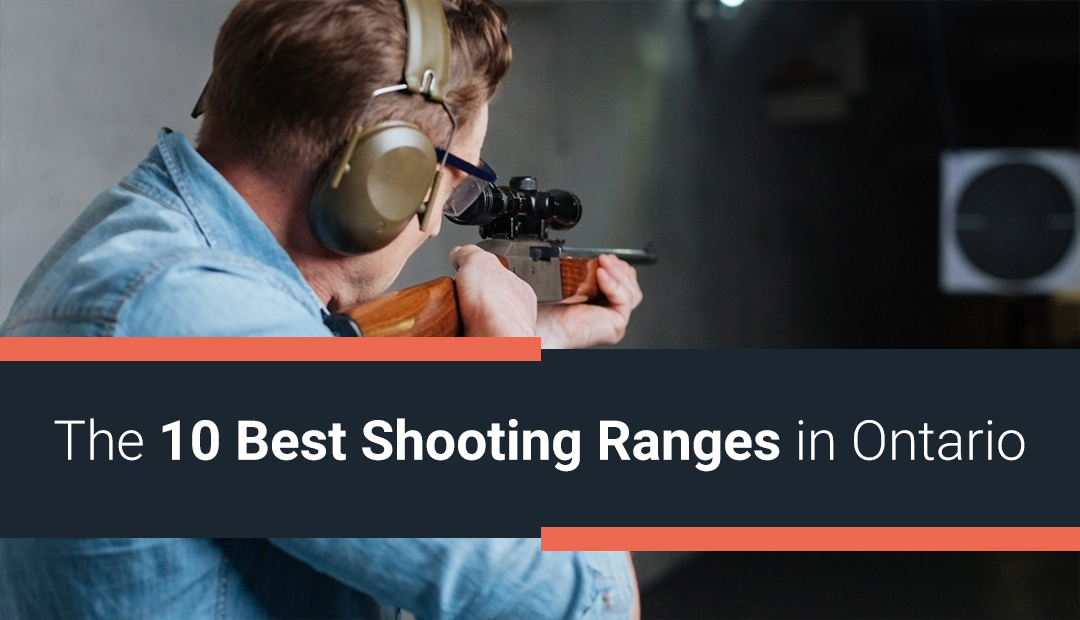 Where do you go to shoot your guns?
Once you purchase a firearm at our GTA Guns auctions, the first thing you're going to want to do is to try it out! If you aren't really into hunting (or it's the off-season), then one of the only other legal outlets for shooting a firearm is shooting ranges, both indoor and outdoor. These can be surprisingly difficult to track down. There are tons of target ranges all over Ontario, but they're often for bows, axe throwing, or virtual firearms and airsoft guns.
Thankfully, we've tracked down some of the best firearm shooting ranges in Ontario for you! Please keep in mind that the majority of these are members-only establishments, so drop-ins probably won't be accepted. You can find everything you need to become a member on their websites, helpfully linked below.
As the Durham Region's premier gun range facility, you can count on Gagnon Shooting Centre to provide both firearm courses and a range where you can practice shooting your guns. It's a private, members-only club, so you'll need to become a member if you wish to use their facilities.
Offering both classes and a firearm range, Target Sports Canada aims to provide one of the best shooting experiences in Ontario. On their gun range, you can use up to .50 BMG calibre firearms. They offer a variety of membership plans, depending on how often you plan to shoot, as well as training programs to teach you everything you need to know about firearm shooting and ownership.
If you're a hunter looking to sharpen your aim, then Trigger & Bows offers a fantastic shooting range experience suited for your needs. Not only do they have a gun range with a variety of acceptable firearms, but they also have an archery range. We sometimes sell archery equipment in our GTA Guns auctions, so if that's something that interests you, be sure to take a look at our next auction!
Not only does East Elgin Sportsmen's Association offer both indoor and outdoor ranges, but they also have two outdoor archery ranges and five station trap ranges. They hold several events throughout the year, so if you're in the region and love firearms, it might be worth checking out!
With classes and multiple firearm ranges, the Silverdale Gun Club might be the range you've been looking for. They have four competition ranges, including a 10-yard action range, two .50 handgun ranges, a 200-yard range, a 100-meter range, a training range, an archery range, and two trap ranges. Again, they're members-only, but offer many shooting packages that could fit both your budget and your taste in firearms!
If you're in the Niagara area, then the Pinecrest Revolver and Gun Club in St. Catharines is the place to be if you want to shoot a firearm! They also have a dedicated "New Shooter Night" on Tuesdays to help new firearm owners get a handle on their guns.
If you're looking for a safe place to fire your guns in Barrie, then Barrie Gun Club offers some exceptional options. With eight outdoor rifle ranges, shotgun fields, and an indoor range, they are fully equipped to handle your shooting needs. They even offer junior air rifle programs for the kids!
Also known as The Burlington Rifle & Revolver Club, Range Burlington offers an indoor 11-port shooting range that's rated for all ammo and calibres. With over 1,800+ members, you're sure to make some friends while you enjoy shooting your firearms!
Hosting multiple events throughout the year, the Hamilton Angling & Hunting Association offers a handgun and rifle range, as well as an archery and skeet shooting range. They also have a pond available for fishing during open seasons!
With seven outdoor ranges, two indoor ranges, and a welcoming clubhouse, the Guelph Rod and Gun Club tries to accommodate all shooting disciplines. They even host Cowboy Action Shooting events, which is something that we've taken a close look at here on our GTA Guns blog!
If you've been looking for a gun range in your region, we hope that the list above will help. And if you have a favourite firearm range that we didn't mention, please let us know! We always love having this kind of information available for our buyers and sellers. If you'd like to learn more about GTA Guns auctions, or any of our other services, please feel free to contact us. Have fun safely using your firearms!