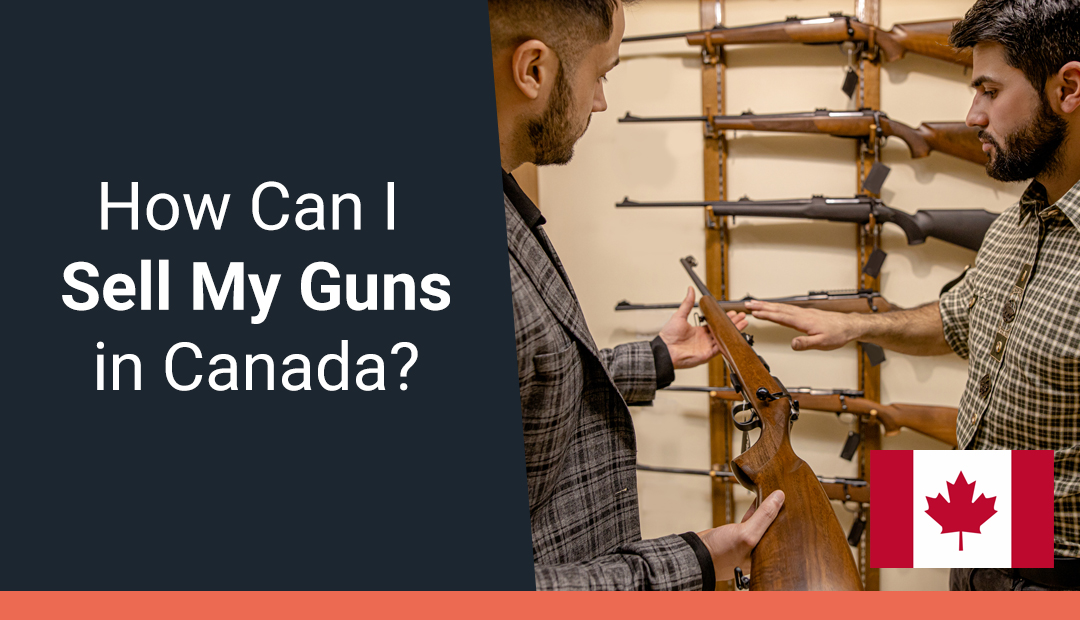 If you're wondering about how you can sell your guns in Canada, you've come to the right place. Consider this: what's the difference between being a gun owner in the U.S. versus being a gun owner in Canada?
The appeal of firearms is universal and extends across borders. In Canada, we have a rich and long history with guns, stretching back to the 1830s. A right to bear arms was seen as a fundamental right in Canada for decades, as there was no standing army or police service.
However, unlike in the United States, gun ownership was not enshrined in our constitution, so Canadian gun culture developed in a very different way than in America. The legalities are quite different. So all of this leads to the question, if you want to sell firearms in Canada (and buy them too), where do you go?
Gun Stores
In Canada, our options to buy and sell firearms are somewhat more limited than in the United States. There, you can purchase guns in all sorts of regular stores without much fuss. Here, things are a little more restricted.
If you're looking to sell or purchase firearms, you may have considered visiting a licensed gun store. Some Canadian Tire stores have Pro Shops that sell firearms and ammunition (they do not buy) but your mileage may vary so call ahead. There's also a big Bass Pro Shop in the Niagara Region, but you won't find the same selection as you do in the USA.
Regardless of the gun store, you must present your valid PAL license in order to purchase a firearm. Depending on whether you wish to buy a restricted or non-restricted firearm, the process can be different. If you're the seller of a firearm, you're also legally obligated to follow the same guidelines.
If you're purchasing a non-restricted firearm, you can take it home immediately. If you're buying a restricted firearm, the seller will need to contact the Canadian Firearms Program to start the transfer. Once this is complete, you'll be given a Short-Term Authorization to Transport, allowing you to take your purchased firearm home with you.
Of course, firearm stores are not an essential service in Canada, which means they cannot open during the pandemic lockdowns.
Private Online Sales of Firearms
You have the legal option of selling your firearms online through gun forums, so long as you follow all legal guidelines, check for a PAL license, etc.
The problem here is that it's almost impossible to verify someone's identity online. There is a fair to decent chance you could be scammed if you attempt to buy or sell a gun to someone you've never met before. There is also always the danger of meeting a stranger for the firearm transfer, especially during a pandemic.
You can purchase firearms online through gun forums as well, but that can be even more risky, as you will have no real way to check the internals of the firearm to make sure it's in fully working condition before you pay. Remember, if you make a mistake and sell a firearm to someone who is not properly licensed, you can be held responsible and penalized if something goes wrong.
Online Auctions
The safest, smartest, and easiest way to buy and sell your firearms in Canada is through online auctions.
First off, online gun actions are entirely virtual! That means our auctions are still active during the pandemic, even if there is a shutdown. If you want to purchase a firearm right now, going virtual is, by far, the easiest and most reliable option.
Second, it's incredibly safe for both buyers and sellers. If you plan on selling your firearms, you simply need to contact us to bring them to us at our brick-and-mortar location. Note: we closely follow all pandemic guidelines.
Once the firearms are in our possession, your job is done. We take care of everything else. We put them through our GUNCHECK™ and CYCLECHECK™ programs to determine their exact condition, create their auction pages, put up high-resolution photos and a description, and handle all of the bids. You only need to sit back and wait for the money from the sale to be deposited into your bank account.
If you're a buyer, you might be worried about receiving a firearm in a less than perfect condition. That's why we offer unparalleled guarantees. If you receive your item in a damaged condition, you can send it back to us (we'll pay the shipping) and we'll repair it for free (30-days max). If you get your newly purchased firearm and decide that it wasn't quite what you expected, you can send it back and we'll relist it with no seller fees (30-day max, +$3000 hammer price).
Buying & Selling Firearms in Canada
Buying and selling firearms can seem challenging in Canada, but GTA Guns is here to make the process easy and manageable. Whether you're looking for the perfect piece to add to your collection or want to find somewhere you can sell your collection, feel free to contact us today. We're ready to answer all of your questions about GTA Guns auctions and our other services!