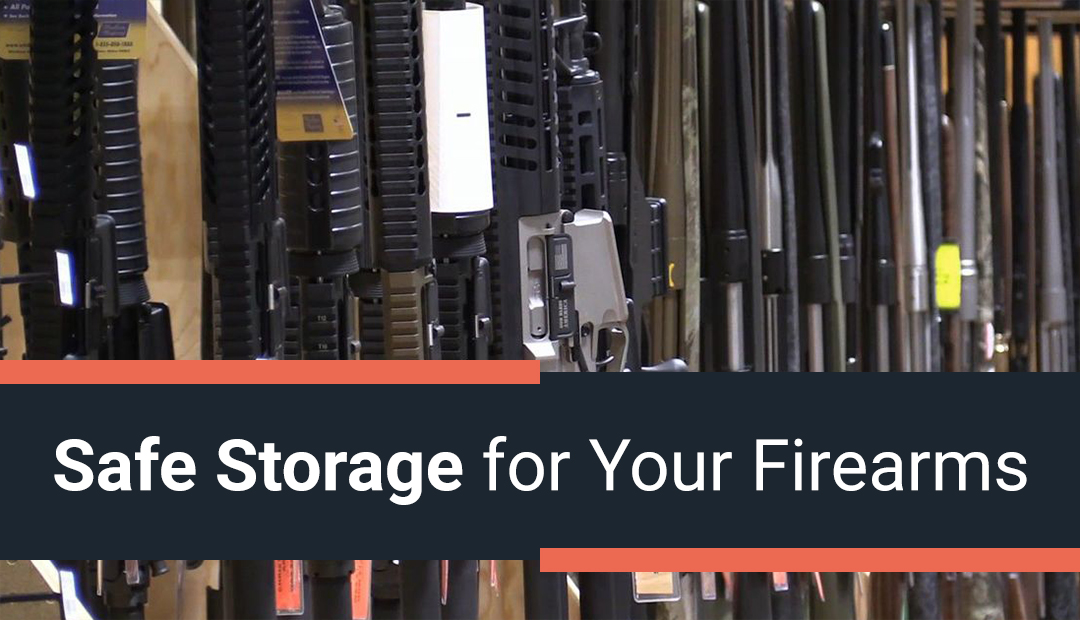 There are times when the best place to store your firearms isn't at your home. If you're someone who is passionate about guns, cares about the sentimental value attached to them, or if you have a substantial financial investment in your collection, it's important that you have a location where you can keep all of your guns safely and securely.
At GTA Guns, we offer Safe Storage; a personal Gun Locker where you can store all of your firearms while still having access to them at any time. At GTA Guns, you can rest assured that your guns will be in the hands of professionals who hold firearms in the same high esteem you do. Here are a few of the reasons why you can and should trust GTA Guns to store your guns for you:
1. GTA Guns is Completely Insured
One reason why some people might be reluctant to store their guns away from home is that they're worried about insurance. If you were to store your firearms in a facility without any insurance and something happened, like a fire, your firearms and their value could be lost forever. At GTA Guns, our secure storage location is fully insured, meaning that even if the unthinkable happens, your firearms will still be fully covered.
2. No Guns On Your Property
There are many reasons why you might not be able to store your firearms on your property. Perhaps your family members aren't entirely comfortable with there being guns in the house. Or you might be a senior, living in a residence that doesn't allow you to store your firearms. You also don't have to worry about something going amiss on your property. When you store your guns with us, they're secure and protected.
No matter what your reason, GTA Guns will offer you the perfect storage solution. With us, you can store your guns off your property while still having full access to them at any time.
3. Your Guns Will Be Protected from Theft
There's another good reason not to store your firearms in your home. Even if you've invested in anti-theft technology, there's always a chance that someone could break into your house looking for valuables. If you have valuable, antique, or restricted (or even legal but prohibited) firearms in your home, they can be prime targets for theft. Our storage facility is fully secure and monitored at all times, so you can rest assured that your guns will be completely safe in our hands.
4. You Can Have Your Guns Appraised for Insurance and Estate Planning Purposes
At GTA Guns, we believe in offering a level playing field for collectors who are looking to purchase high-quality firearms online or from our auction site. That's why we provide our buyers with a full-service, "under the hood" gun fitness report that we call GUNCHECK™.
When you store your guns with us, you can put them through GUNCHECK™ and appraise their full value and condition. This will give you an accurate potential "price" of your firearms for potential insurance costs or estate planning.
5. In the Event of Your Death, We Can Handle the Needs of Your Executor
Planning for your estate and writing a comprehensive will is probably the best thing you could possibly do for your family for after you've passed. Proper estate planning will greatly simplify things for them and prevent undue stress, arguments, and resentments. You should, of course, always include your firearms in your estate planning, but this can be tricky.
We've written an entire blog post about estate planning with guns in mind, but in short, storing your firearms with GTA Guns will make things far simpler after you die. Your family, who may already be under tremendous stress, won't have to worry about figuring out where your guns are stored in your home, as they'll already be safe and sound in one place. And your Executor, who is legally required to store your firearms safely, won't have to worry about the rules and regulations because they already will be in our secure facility.
If you'd like to learn more about GTA Guns Safe Storage, you can click here to learn more, or simply contact us to enquire about this service.