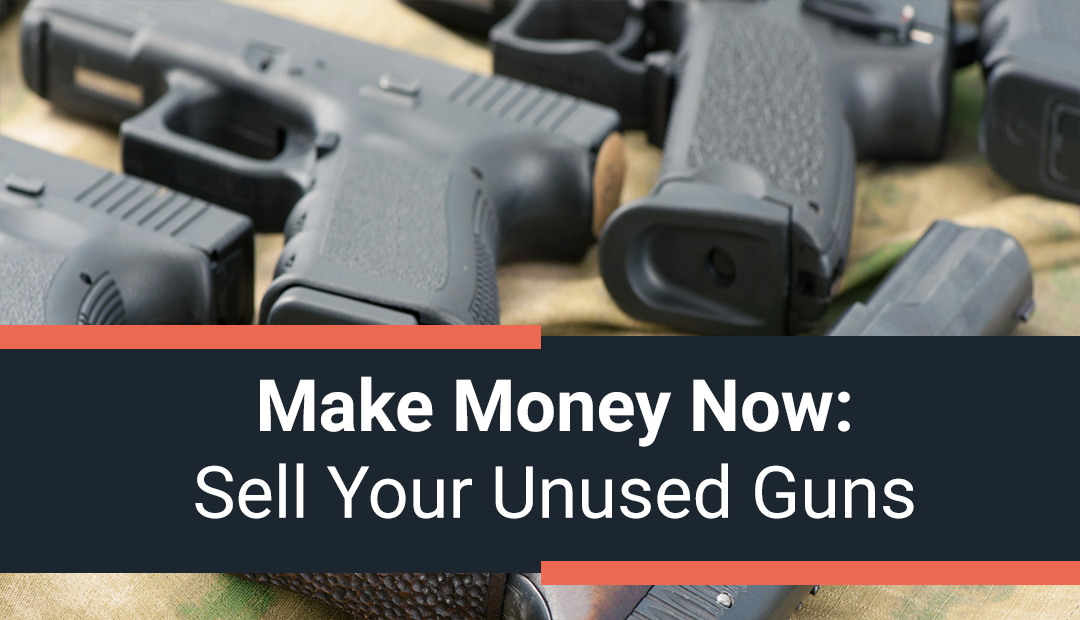 Could you use some extra money right now?
One of the painful realities of living in the time of COVID-19 is the damage that it's done to our economy. Necessary physical distancing measures have forced the closure of non-essential businesses, resulting in widespread layoffs and unemployment unseen in generations. Hard-working people who had good, secure jobs are now worried about living month-to-month.
In times like this, many people sell some of their belongings to earn a little extra money. Unfortunately, even this has become a problem during coronavirus. Sites like Kijiji work through social interactions, where someone shows up at your door, pays you, and takes the item they've bought. This simply isn't practical when physical distancing is needed.
Thankfully, GTA Guns offers the perfect solution to this problem. We're a safe third-party who can receive the firearms for the auction and ship them out to the winners. If you want to make some money selling your firearms, GTA Guns auctions are entirely online.
How Much Could You Make?
That all depends on how many guns you want to auction!
The beauty of GTA Guns auctions is that people who list their firearms often make much more than they would selling them at a gun store (not that this is an option right now). To make a profit, gun stores need to purchase your firearms at less than the price they would plan on selling them.
At GTA Guns, we want you to sell your guns for as much as possible. And that's the beauty of the auction format! GTA Guns auctions draw an audience of gun collectors and enthusiasts from all across North America. These are serious collectors who will bid without a second thought when they see a firearm they want. If two buyers who desperately want your firearm end up in a bidding war, you'll watch as that selling price goes higher and higher!
How It Works
Here's how the online GTA Guns auctions work from the POV of a seller:
If you have a firearm that you want to sell, you bring it to us at GTA Guns. We'll observe all physical distancing guidelines when receiving the item. After that, your job is done!
Once it's in our possession, we'll make sure the surface of the firearm is sterilized, then put it through our proprietary GUNCHECK™ or CYCLECHECK™ programs. Here, we painstakingly examine the condition or your firearms, both inside and out, taking high-resolution photos so potential buyers can see precisely what they'll be bidding on.
We then create a professional listing, with an in-depth description of the firearm, detailed information about its condition, and lots of photos. From here, all you need to do is sit back and watch the bids climb!
Once the firearm is sold, we take care of everything. We do the paperwork to transfer the license, we ship the firearm to the winner of the auction, and we send you the money straight to your bank account!
If you're a seller, you just need to create a free account with GTA Guns auctions. An account allows users to bid in online auctions, save their searches, track their bids, and much more. As soon as the items are live, others can start bidding on your items. But please keep in mind that serious bids likely won't come in until the day before the auction. At that point, they'll be coming in hot!
If you're a buyer who wins an item, you transfer the money to us, and we ship the item to you. If the firearm you purchased fails to fire and/or cycle, ship it back to us (we'll pay for the cost) and we'll repair it for free (30-days max). If you're not satisfied with your purchase for other reasons, you can return the firearm to us and we will relist it in our next auction without any seller's fees (30-day max and hammer price is $3,000+)
When we fully made the jump to the online space a few years ago, we couldn't have predicted the current circumstances that we find ourselves in. It's a massive relief to us that we're still able to work with our customers and provide them with exceptional firearms and firearm-related items. Selling your guns is a fantastic way to earn some money during this crisis, and there is no better way to sell than GTA Guns auctions!
If you'd like to learn more about GTA Guns auctions, or any of our other services, please feel free to contact us.