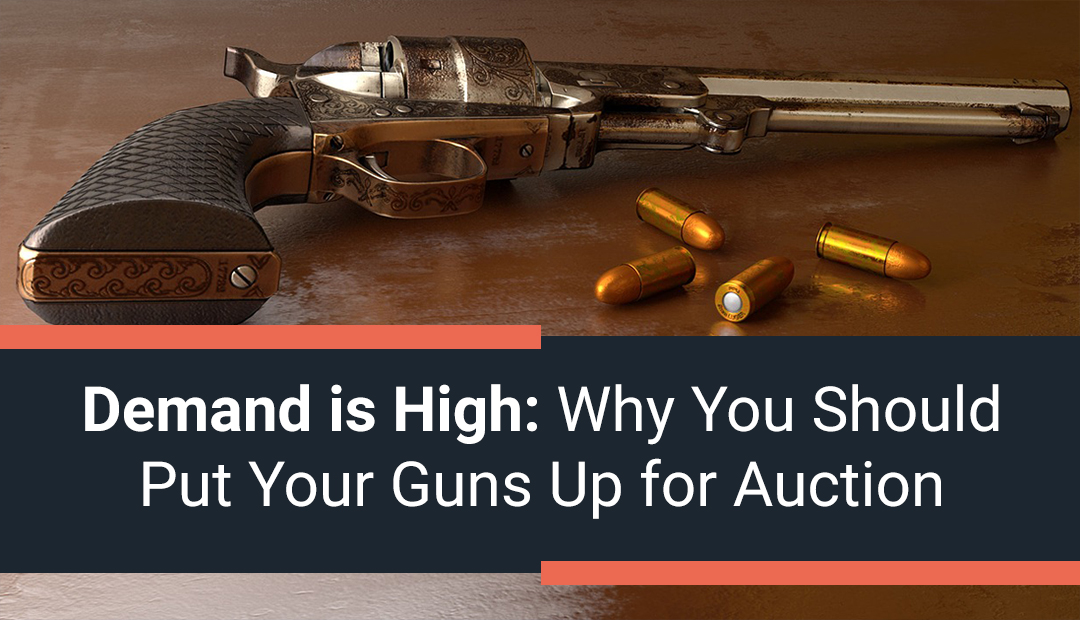 Are you looking to sell some of your firearms? Did you know you can make good money by selling your guns at auction?
It's true! Demand is high right now for firearms and the average Canadian firearm owner can make a nice profit through selling their firearms at auction. If you haven't used an auction firm like GTA Guns before, the process is painless and lucrative. There are so many benefits to putting your guns up for auction; we're going to walk you through the top 4 reasons why you should get rid of any guns you aren't using and take home a nice profit!
1. Auctions are better than selling privately
When you think about selling your firearms, the idea of selling privately might come to mind first. However, auctions bring higher selling prices than private sales. At an auction, bidders typically engage in a bidding war and this definitely helps to drive prices up. When you have two or more actively interested parties battling one another to win your firearm, it means more profit in your pocket!
Also, our auctions include both local on-site bidders as well as people bidding remotely using the internet, so with GTA Guns auctions, you benefit from a much larger pool of potential buyers.
2. Better exposure to your potential buyers
Well-known auctioneers attract large audiences of buyers who are already interested in firearms. GTA Guns takes it a step further because we've partnered with Auctionflex as well as Icollector to help attract buyers from around the world.
As reputable gun auctioneers, we're known for our high level of professionalism, and we bring in a better pool of potential buyers. Our dedicated buyers already know and trust us and our buyer-base is growing every day. When you work with us, you can be sure that we'll market your items, follow all of the necessary legalities, and fight to get you the highest possible price, taking the pressure off of you.
3. Auctions tend to bring higher prices
There's never a guarantee with auctions, but in our experience, auctions tend to bring higher prices for firearms. Oftentimes, people like to see the gun in person and look at what they're buying. On the other hand, our online buyers take special care to mark the auction in their calendars, sometimes waking up very early depending on their timezones to ensure that they don't miss the action. That means that our buyers take the auctions very seriously. Once they fall in love with a new firearm, it can mean serious profit for you because they'll probably be willing to pay a little more to make sure that they seize the winning bid.
4. Convenience is key
Reputable auctioneers can make selling your firearms really easy and that's key for many people who have such busy schedules. Our auction firms is convenient because you don't have to take the time and effort to prepare for the sale, figure out how to advertise your firearm, or learn how to ship or transport it once it's sold.
Here at GTA Guns we put a lot of effort into making the auction process easy and reliable, both for our buyers and sellers. We inspect and clean all firearms put up for auction, have our certified gunsmiths appraise and grade every item, and provide transportation services to and from our live auctions.
5. Demand is high!
We aren't kidding when we tell you that now is a great time to sell your firearms through auction. Now is a hot time for the pre-owned firearms market. Take advantage of the demand from buyers by selling sooner rather than later.
Selling your firearms through auction doesn't have to be difficult, especially if you let the auctioneer take care of all of the details for you. So if you've ever wondered about selling your guns through auction, now is the time! We make the process easy and simple, plus you'll end up with a profit in your pocket without too much effort on your part. Contact us today to learn more on how to put your firearms up for auction.