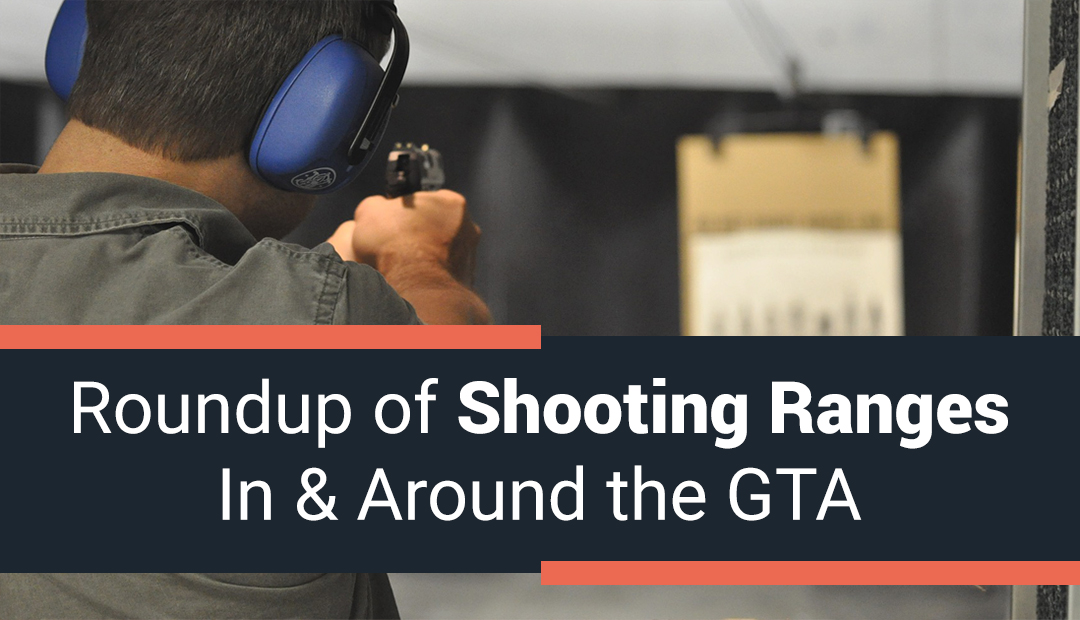 Are you looking for a convenient shooting range in or around Toronto?
There's no better way to celebrate the purchase of a new firearm than testing it out yourself at the range. If you're looking for the best gun range in Toronto or in the GTA, there are lots of great choices. Here are five gun ranges and shooting ranges (in no particular order) in the Greater Toronto Area for your convenience. You can refer to this list the next time you purchase a firearm at one of our auctions.  
Target Sports Canada
14 Stalwart Industrial Drive , Gormley, ON  L0H 1G0
A family friendly safe and modern shooting facility capable of using up to .50 BMG calibre firearms

2 independent shooting bays with 25 bays total including a pistol range and a rifle range

Over 2000 sq feet of clean and well stocked retail featuring guns, gear and gifts
The Range at Urban Tactical
18 Zatonski Avenue, Brantford, ON N3V 1G1
Features 2 Indoor Shooting Ranges: Alpha (ideal for advanced target shooting) and Bravo (50ft 7 stall range with target retrieval systems)

Open 7 days a week for stress relief, fun and adrenaline

3,000 sq ft retail store Urban Tactical Stocked with the latest Tactical Gear, Apparel, Firearms and Ammunition
Sharon Gun Club
18255 Kennedy Road, Sharon, ON LoG 1Vo
A gun club group of over 600 shooting enthusiasts

78 acres of land 55 kilometers north of the City of Toronto with 8 outdoor ranges

Features 30 meter range, 50 meter range, 100 yard rifle range, 200 and 300 meter rifle range, 100 meter silhouette range, 100 meter Black Badge practical shooting range, a sand pit for Cowboy action and various handgun discipline teachings, and trap shooting.
Silverdale Gun Club
4948 Conc 4 Road, Saint Anns, ON L0R 1Y0
Offers a variety of shooting ranges: 3 competition ranges, an action range, 25/50 handgun range, 50 yard range, 100/200 yard range, 40/60/100 meter range, training range, archery and 2 trap ranges

Open for members use 7 days a week, sunrise to sunset

Non members are welcome to come to the range at specific times

Has numerous shooting packages that include ammunition and firearm rental, no experience required
Uxbridge Shooting Sports
5700 Concession 4, Uxbridge, ON L0A 1C0
www.uxbridgeshootingsports.com
One of Ontario's premier clubs for the safe enjoyment of the clay target sports

Offers superb shooting facilities and professional instruction, all within a close proximity to Metropolitan Toronto

Facilities include 3 Regulation Skeet Fields, 1 International Skeet Field, 1 Regulation Trap Field (Wobble Trap), 1 Sporting Clays Course with a 70ft Tower, 1 Challenging 5-stand layout PLUS professional instruction is availabl

e
We hope this list proves to be useful to you the next time you're looking for a gun range or shooting range. Here at GTA Guns and Gear Auctions Inc, we're all firearms enthusiasts and we know how exciting it is to find a new great range to bring your new firearms.
If you're looking to expand your collection or if you're looking for a particular firearm, check out our bi-monthly live and online auctions and follow us on Facebook and Twitter to stay up to date on all the latest GTA Guns news.