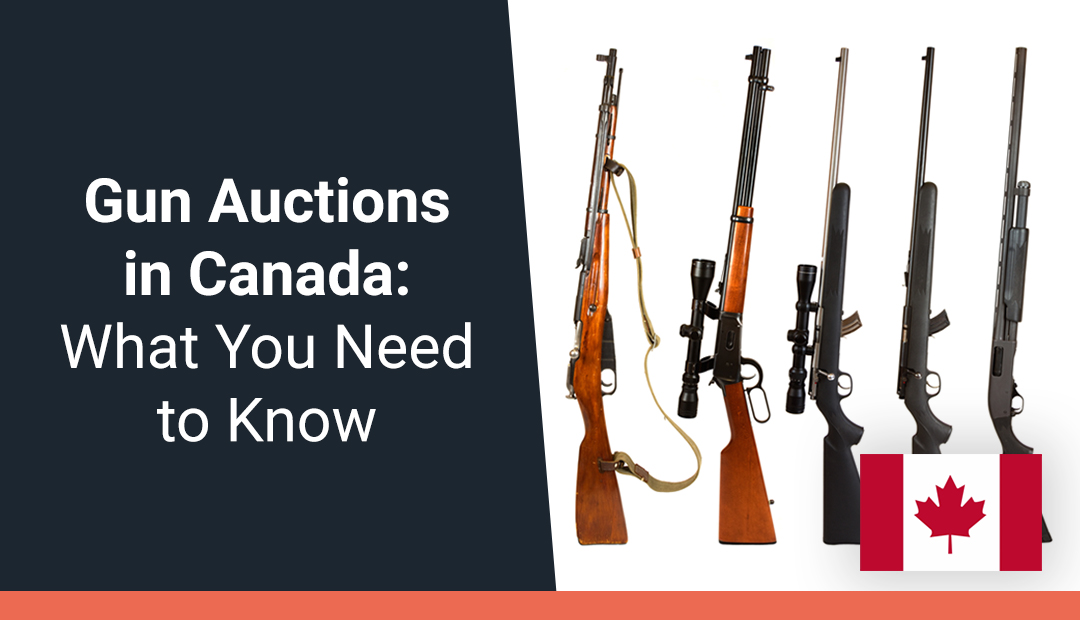 So, you've decided to auction your firearms… but now what?
If you've been following us for a while, then you know how many risks there are to buying and selling firearms online. If you head to a gun store, you might end up walking away with less than the firearm is worth. Sell them through online forums or classifieds, and you might be inviting a huge amount of risk in being scammed.
In our opinion, there's only one safe method of selling your firearms that will ensure you get the best possible price for them: firearm auctions. That's the reason why GTA Guns has been running our online firearm auctions for the last few years.
But, what's the difference between selling firearms yourself and listing them through GTA Guns? Well, it all boils down to how much footwork you need to do—and when you're working with us, the answer is "almost none!"
What Sellers Need to Know
If you're planning on listing your firearms with GTA Guns, we know you're going to be surprised at just how easy the process is.
First, we suggest contacting us about your unwanted firearms so we can give you the lowdown on our auctions firsthand. Then, you only need to safely transport your firearms to our brick-and-mortar location to drop them off. Don't forget to bring all of your paperwork and relevant licences with you!
Once we have your firearms in our possession… that's it. You're done! We'll store your firearms in our safe storage facility during the auction. Our safe storage facility is fully-insured, so if anything were to happen, you'd be fully covered. All you need to do at this point is to sit back, relax, and watch the bids come in.
As for us, we're going to be busy putting your firearms through our proprietary GUNCHECK™and CYCLECHECK™ systems to determine their exact condition, taking internal and external photos, and making sure that buyers will know precisely what they'll be bidding on. All of this information goes up on your items' listings. Feel free to check it out!
What Buyers Need to Know
For buyers, gun auctions are a little more… active.
Obviously, they need to bid on their desired items. We have gun enthusiasts from across North America who avidly follow GTA Guns auctions to find the exact gun they've been looking for. That means, when they see it, they're going to bid on it. As this is a full-fledged auction, the closer we get to the auction date, the more bids will come in. Sometimes this can even result in a bidding war that drives the price of an item sky-high!
Of course, only one person can win each item, so we highly advise our buyers to keep an eye on everything they bid on. In fact, we recommend putting in bids on more than one item so you won't walk away empty-handed if someone else bids that LITTLE bit more!
A Change in Schedule
We also want you to know that we've recently moved our auctions from monthly to once every two months. Why?
Well, we want to be able to present our potential buyers with only the finest in firearms, while also being understanding of their budgets. By moving our auctions to every two months—six times a year rather than twelve—that gives our buyers time to save up for the big items they want. Having an auction every two months will also expand our selection of firearms available for purchase!
GTA Guns auctions are still run with the same level of professionalism and care that you've come to expect of us. Whether you're buying or selling, it's our job to make the process as smooth as possible.
That's one of the reasons why we offer our two unparalleled satisfaction guarantees to our buyers. If a buyer receives their purchased firearm, and it arrives damaged or in non-working order, they can send it back to us—we pay—and we'll repair it free-of-charge with our full apologies (30-day max). If, on the other hand, they receive their purchased firearm and it isn't what they expected or doesn't meet their standards, they can send it back, and we'll list it in our next firearm auction without any sellers' fees (30-day max, hammer price +$3,000).
Note that these two guarantees put sellers entirely in the clear. Once we are in possession of a seller's firearms, those firearms are our responsibility. Our sellers don't need to worry about unsatisfied buyers or accidental damage. All they need to do is wait for the proceeds of the auction to come into their bank account!
So, if you're excited to get into our next firearm auction, either as a buyer or seller, we invite you to contact us today. We can't wait to answer all of your questions about GTA Guns auctions and our other services!