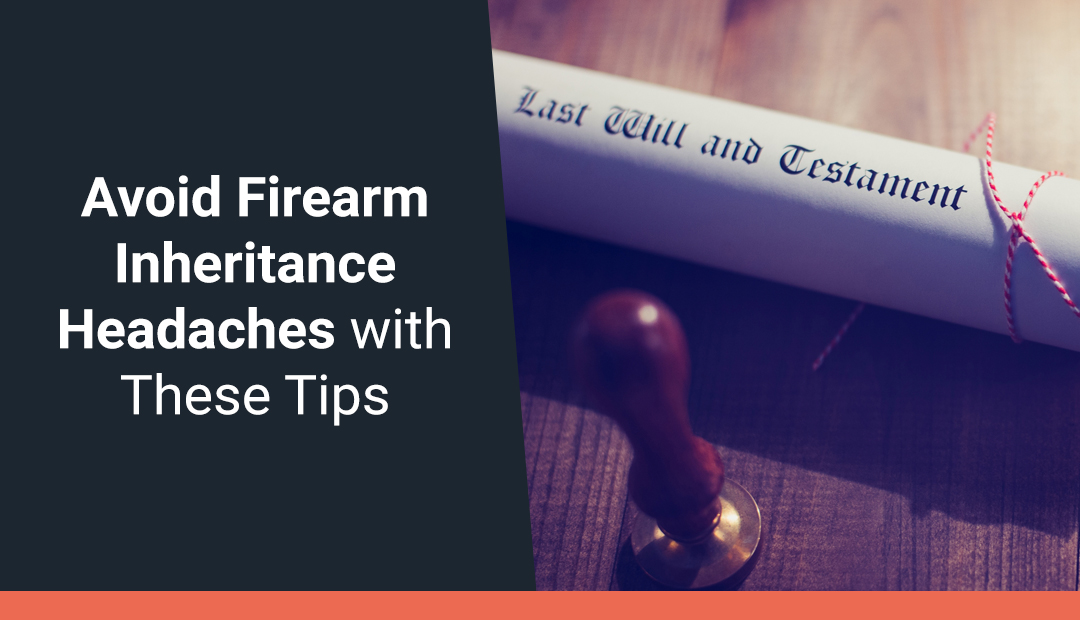 Do you ever worry about what will happen after you pass?
It's not an easy thing to think about, but as we get older, making post-death plans can be one of the most important things we can do for our friends and family. If you don't have an up-to-date Will it can make things much more stressful for your loved ones. At GTA Guns, we've seen this happen many times; an executor will call us to ask for help in honouring the post-mortem wishes of a client, as there were guns in the estate that weren't accounted for in the Will.
Even if you have included detailed instructions about what should happen with your firearms in your Will, there can be complications. For example, your PAL will no longer be valid after you pass away, meaning that your loved ones will need to get their own valid PAL. They'll also need to pay estate administration taxes on the items in your Will, so if you have expensive guns in your collection, that can result in an unexpected heavy cost to your family.
However, by taking some simple steps now, you can avoid these scenarios, ensuring your loved ones know exactly what to do with your firearm collection once you're gone. Our advice? Skip putting the firearms in your Will entirely and choose one of these options instead:
Option 1: Sell Your Collection Before You Pass
If no one in your family has an interest in firearms, you might be wondering what to do with your collection. Rather than leaving your loved ones with the dilemma of whether or not to sell your guns, you can take care of this situation now by selling your guns through GTA Guns auctions.
This has several advantages. First, many people invest a lot of cash into their firearm collections. By deciding to sell your guns through GTA Guns auctions, you can free up a ton of money, giving yourself lots of options. You could choose to leave that money to your loved ones, or you could decide to use those funds yourself in your twilight years! Maybe a long-overdue vacation is in order?
Part of the beauty of selling your firearms through GTA Guns is that we do all the work. All you need to do is get your firearms to our brick-and-mortar location. We can also arrange pickup in specific situations. After that, we take care of everything else!
We do a full assessment of the firearms with our proprietary GUNCHECK™ and CYCLECHECK™ services to determine the guns' exact condition. We take high-resolution photos and videos and we write up a comprehensive description of each gun. All of this information goes on the guns' auction pages so potential buyers can see exactly what they are bidding on.
Handling the sale is our job, along with shipping the items to the winners of the auctions. After that, your only job is to sit back and watch the bids roll in!
We even handle any post-sale scenarios that may arise. The money will already be deposited into your account by that point, so any issues a buyer has will not be your problem. It's difficult to imagine how selling your firearms can get any easier than that!
Option 2: Give Your Guns to Your Loved Ones Immediately
If you want to avoid your family needing to pay estate administration taxes on your firearms, there's an incredibly simple loophole: give your loved ones your firearms while you're still here.
As we said, the biggest advantage of this is that no one will need to pay any taxes on their inheritance. So that saves your family time and money!
This option also makes it easier to figure out who wants your guns and who doesn't. You won't end up giving some of your collection to someone who doesn't want it. Instead, your firearms can be given to those who will really appreciate and care for them. And hey, you'll get to continue to enjoy them as well! Win-win!
If the person you want to inherit your firearms has a storage issue—for instance, maybe their spouse doesn't want guns in the home—we recommend GTA Guns Secure Storage. With this option, your loved one can put the guns into a climate and humidity-controlled facility to keep them in peak condition.
With our short and long-term storage options, only a call to us is needed to book a pickup and drop-off time. Alternatively, your loved one could choose our self-storage option so they can get access to their firearms whenever they want! Keeping your firearms in Safe Storage is almost as convenient as keeping them at home, only much, much safer!
Some of the best advice we can give elderly firearms owners is to figure out what to do with their guns ASAP. By doing so, they can minimize—or eliminate—potential inheritance headaches, and make a difficult time easier for their family. GTA Guns can help with our firearm auctions and safe storage. If you want to learn more about these or any of our other services, please feel free to contact us today!