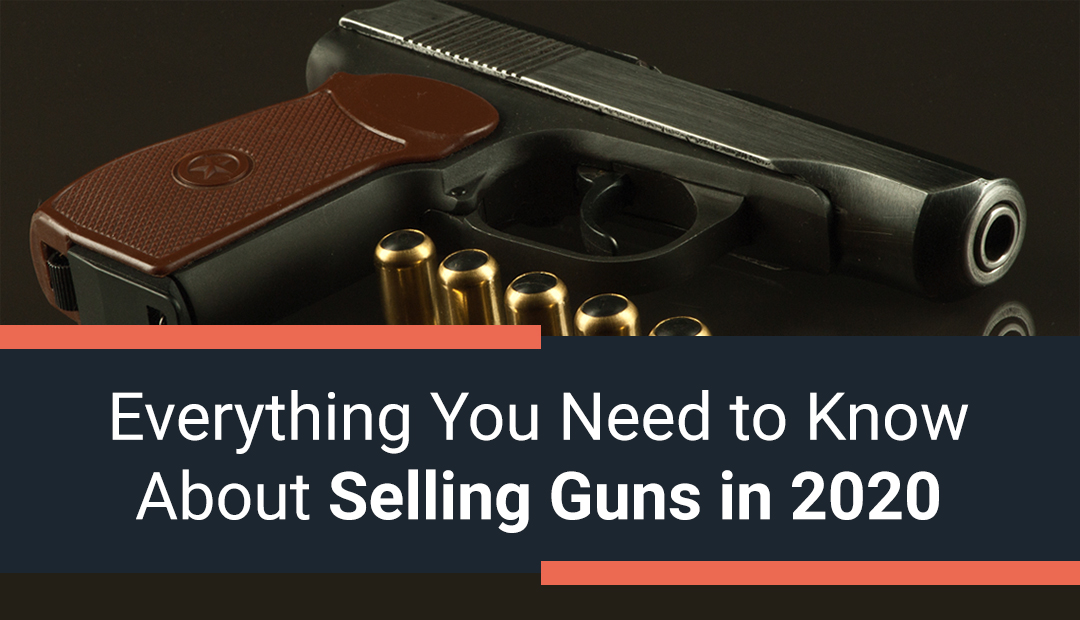 When was the last time you sold one of your firearms?
Whether you're streamlining your gun collection, trying to figure out what to do with inherited firearms, or you simply want to get guns out of the house, selling them is the best option… by far.
While, yes, you can quickly get rid of a firearm by donating it to a gun amnesty program, you'll get absolutely nothing for it. And on top of that, your beautiful firearm would be destroyed. Trust us—there are better ways. If you're worried about the hassle of selling your guns in 2020, let's take a look at your options:
Gun Stores
Now, most gun stores would be happy to take your firearms off your hands, especially if your guns are rare or are in excellent condition. Here's the problem: you're unlikely to get your money's worth for them.
Gun stores have profit margins to maintain. If they're going to purchase a firearm for resale, they need to pay as little as possible to maximize their bottom line. If you have a massive collection of firearms that you want to get rid of, you're going to be walking out of a gun store with only a fraction of their true value.
That's not to say that you can't find a gun store that would be willing to pay you close to the actual value of your firearms, but chances are that you'll be able to make more money if you sell it to a third-party.
The Internet
Sell your firearms at a brick and mortar gun store? Pffft! What is this, the 80s? Nowadays, we have the internet!
Well, hold on there for a minute.
While the internet has completely revolutionized the way we shop and sell our belongings, those innovations haven't necessarily made it much easier to sell a gun online safely. Sites like Kijiji or Craigslist don't allow you to post "for sale" ads for your firearms, as that goes against their terms of service. Similar restrictions are in place on sites like eBay, Facebook Marketplace, and Amazon. Where does this leave you?
Some people go onto firearm forums to find buyers for their guns, but this can be dangerous. On firearm forums, you're dealing directly with strangers with no seller protections in place. Many firearm sellers are scammed out of their guns without ever seeing a cent—and that can be the best-case scenario.
What if you sell a firearm to someone, it's used in a crime, and then you discover that the licence was never transferred properly? You might be partially legally responsible. That's something you want to avoid at all costs.
So, it's off to the amnesty program then, right? Nah! Thankfully, we've got you covered with the best way to sell your firearms in 2020 and beyond!
GTA Guns Auctions
With GTA Guns auctions, you have a way that you can safely sell your firearms online while also bringing in the best possible price for them. Here's how it works:
First, you bring the firearms you want to sell to us. We put them through our proprietary GUNCHECK™ or CYCLECHECK™ programs to determine their exact condition, both inside and out. We take high-resolution photos so potential buyers will be able to see precisely what they are bidding on. And… that's it. Your job is done. We take it from there!
We put your firearms up on our auction site, and you simply have to wait for the bids to come rolling in. We attract a massive audience of firearm collectors from across Canada and the United States. If one of them sees an item they want, there's going to be nothing stopping them from bidding whatever is necessary to purchase it! If a bidding war breaks out on one of your firearms, that can drive the price up hundreds of dollars higher than you'd get from a gun store or a firearm forum!
Once the auction is over, you still don't have to do a thing. We'll transport the firearms to their new owners and even handle all of the paperwork, making sure that you're fully protected. Your money will be deposited into your bank account ASAP.
Now, THIS is the way to sell your firearms in 2020! You're getting top dollar for your guns with minimal effort. And since you're already involved in our firearm auctions, why not make a bid or two yourself? If you've been looking for specific firearms for your collection, we might have them listed. You might even find something that you've been looking for for years. But if it's something exceptional, be prepared for the bidding war that is to come!
If you'd like to learn more about GTA Guns auctions, or any of our other services, please feel free to contact us. We hope that you have a wonderful experience with us buying and selling your firearms throughout 2020!