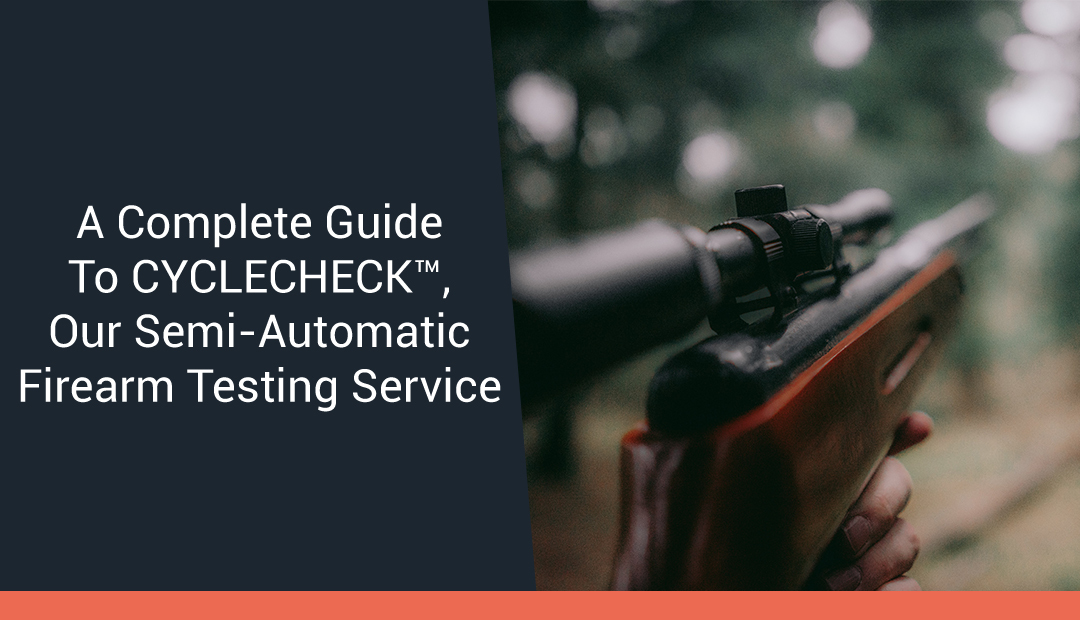 Are you on the hunt for a specific semi-automatic firearm?
Before purchasing your desired item, you'll want to ensure that the firearm looks beautiful and performs flawlessly. After all, there is nothing worse than buying a gun and discovering it can't fire! 
At GTA Guns and Gear & Auctions, we strive to provide the best customer experience possible to our clients, whether that's through our easy online bidding process, receiving the firearm, or our buyers' and sellers' guarantees. To ensure that our clients are satisfied with the guns purchased through our auctions, we have created CYCLECHECK™, a semi-automatic firearm testing service.
What Is CYCLECHECK™?
CYCLECHECK™ is a performance guarantee service created by GTA Guns. Put simply, CYCLECHECK™ ensures that all of the semi-automatic firearms bought and sold through GTA Guns Auctions are fully operational.
What Does CYCLECHECK™ Entail?
At GTA Guns, we complete a CYCLECHECK™ on every semi-automatic gun before the gun is listed in one of our auctions. 
This entails testing the operation of the semi-automatic gun by firing it at a controlled gun range. We fire several rounds to ensure that the gun works flawlessly.
To maintain transparency and communication and develop a high level of trust with our buyers, we capture a high-resolution video of every semi-automatic firearm we test. The video of the gun at the shooting range is uploaded to prove that the gun operates properly. That way, you know that you are bidding on a firearm that both looks great and is fully operational.
Get The Best Firearm For Your Money
Beyond CYCLECHECK™, we at GTA Guns and Gear & Auctions perform various quality and performance assurance tests to ensure that our buyers know they are purchasing a gun that is up to their—and our—standards. We also offer various guarantees. 
When you choose to purchase through our online auctions, you receive the following services and guarantees:
GUNCHECK™:

A licensed gunsmith inspects every firearm we sell and writes a condition report so you know exactly what you are bidding on.

CYCLECHECK™:

Our CFSC-certified gun sellers test every semi-automatic firearm at a controlled gun range to ensure they are working correctly. 

Fiber-optic bore pictures:

Our fiber-optic bore pictures display the condition of the bore on used firearms. This allows you to see for yourself what you're bidding on.

Performance Guarantee:

All firearms that are purchased from us are fully operational. If there is any issue with them, we'll pay for shipping and repair.

Satisfaction Guarantee:

For items $3,000+, we offer a 30-day satisfaction policy where you can return it and we'll sell it at the next auction for you. And yes, we'll pay the shipping!
GTA Guns and Gear & Auctions is a trusted firearm auction and safe storage company located in Newmarket, Ontario. We buy, sell, appraise, repair, and store a wide range of firearms, including non-restricted and restricted firearms.
We have loyal buyers and sellers from all across North America, all who come to us because they know they can be confident they're getting the best firearms for their money and top-shelf service, thanks to our quality and performance guarantees!
We invite you to join our next auction to purchase a beautiful, fully-operational firearm. And if you want to learn more about our auctions or any other services, please feel free to contact us today!