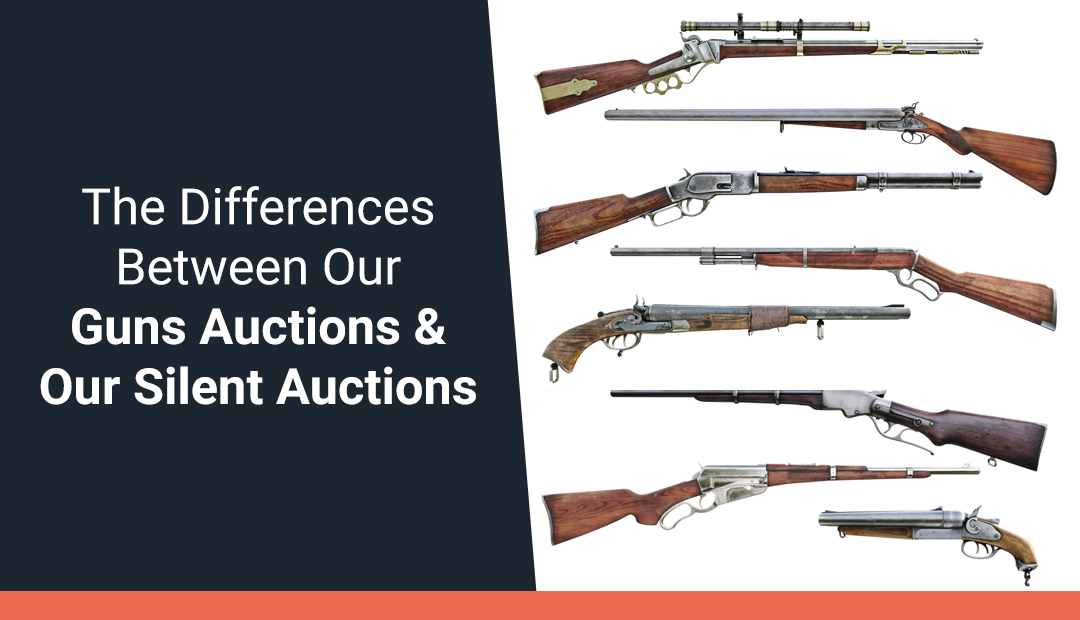 Do you know that there are different types of GTA Guns auctions?
In order to grow, every business needs to adapt. In the case of GTA Guns, our firearm auctions are quite a bit different today than when we started out. Initially, we held in-person auctions with an online component. While these were very successful, we soon realized that the vast majority of our buyers preferred online auctions. We switched to online-only, and today, our firearm auctions are more popular than ever, with buyers coming in from all across North America!
But we also realized there was another niche that we could fill—auctions for extremely valuable firearms. To connect buyers and sellers of these guns, we decided we needed a different, but separate, approach. And so was born our silent auctions!
Here are the differences between our two auction options:
How Regular GTA Guns Online Auctions Work
With our regular bi-monthly auctions, buyers and sellers can connect through our auction website. 
If you have firearms that you wish to sell, you get in contact with us and take them to our brick-and-mortar location. We put the firearms through our proprietary GUNCHECK™ and CYCLECHECK™ verification services to determine their exact condition, both inside and out. We then create auction listing pages with detailed descriptions and high-resolution photos to show prospective buyers precisely what they can expect from each firearm. 
Once the bidding is finished, the seller's job is done. We send them the proceeds of the auction, and they don't have to worry about any post-sale customer service—that's our job! We transfer all the paperwork and then ship the firearm to its new owner. 
We have a two-pronged guarantee to ensure that buyers will always be satisfied with the sale:
If the firearm arrives damaged, they can send it back to us—we pay for the shipping both ways—and we'll repair it free of charge (30-day max).

If the firearm arrives and it isn't exactly what the buyer expected, the buyer can send it back to us, and we will relist it in our next auction with no seller's fees (30-day max, +$3,000 hammer price).
That's how we do things with our regular auctions. But what about our silent auctions?
How Silent GTA Guns Online Auctions Work
The biggest difference between our regular bi-monthly auctions and our silent auctions is the price of the items listed.
If you want to sell a firearm valued at over $5,000, then the silent auction is the platform for you. Only the most exclusive items are sold this way. Discriminating buyers all over North America are looking for these items!
As a seller, the first step for getting involved in this auction type is the same as it is with our regular auctions: Take your firearms to our brick-and-mortar location. Again, we'll put your guns through GUNCHECK™ and CYCLECHECK™ to determine their condition and the minimum value they'll be listed at. The item won't be sold if the bids don't reach that minimum bid.
For buyers, the process is like any other silent auction you may have participated in: You post your bid, including your name and email. When someone bids more than you, you can post another bid to beat theirs. You are also welcome to make an appointment with us to see the item you're interested in.
After the sale, we guarantee the authenticity of the firearm for 30 days following your purchase. For each sale, you'll be charged local taxes, a 10% buyer's premium, and, depending on the item, the shipping cost to your location. 
Finding unique and interesting items can be challenging for serious firearm collectors, but GTA Guns' silent auctions make it easy! Be sure to check our website frequently, as we are always posting new items in both our regular and silent auctions!
And if you would like to learn more about GTA Guns' regular auctions, silent auctions, or any of our other services, please feel free to contact us today!