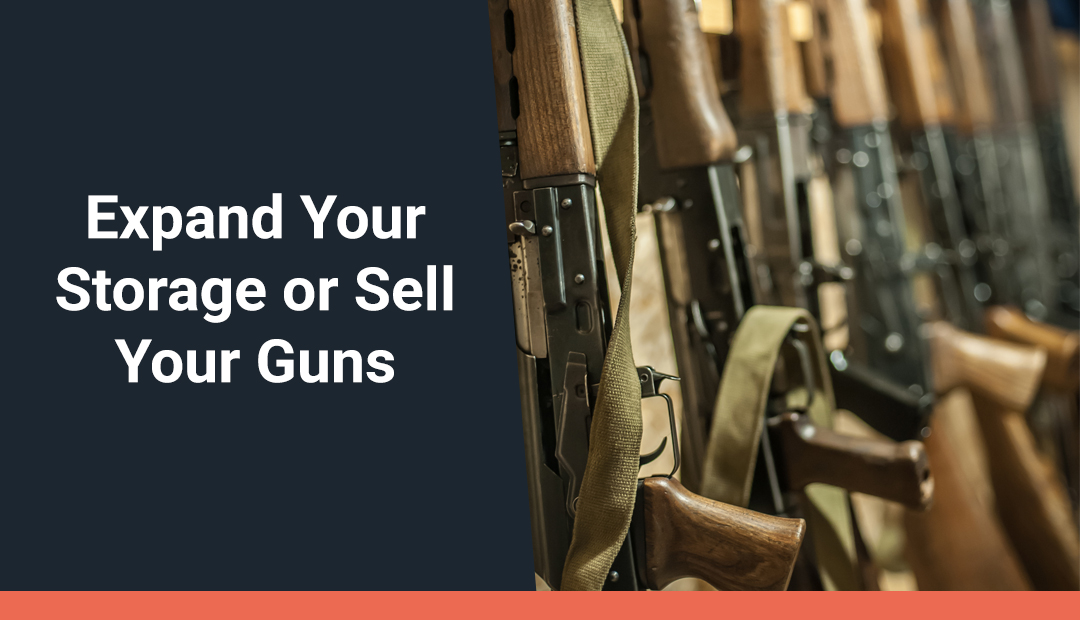 Are you ready to do some spring cleaning?
The worst part about going through all of your stuff to get rid of clutter is constantly asking yourself the question, "Do I REALLY have room for all of this stuff?" That's an even tougher question when space is at a premium, like in an apartment or condo. What if you're in a place in your life where you are downsizing to a smaller space?
In this situation, if you have a firearm collection, you might be forced to make some tough choices: Do you sell your guns? Or do you store your guns?
Option 1: Selling Your Guns
Unlike much of the clutter found in the average home, firearms are valuable. Therefore, if you decide to downsize and sell your guns, you can actually make a good deal of money from their sale.
We recommend avoiding taking your firearms to a firearm store to sell them. While this might seem like the easiest option, you'll likely walk away with much less money than your guns are worth. That's because firearms stores need to make a profit. If they're buying your guns for the same price they sell them, they wouldn't be making any money.
With GTA Guns auctions, however, the more money you make in a sale, the more money we make. We have the same goal! 
While it can hurt to part with your firearms, having some extra money in your wallet is a big plus. Many of our senior sellers have put their guns up for auction to help with their retirement funds. Others have used the money they've made to go on well-deserved vacations. That's one of the advantages of having a firearm collection: guns are worth big money. We aren't talking about pocket change, here! 
Another big benefit to selling your firearms with GTA Guns' auctions is that you can get them out of your home immediately.
To ensure the condition of every firearm we sell through our auctions, we put them into safe storage at our brick-and-mortar location in Newmarket, Ontario. Once you decide to sell your firearms with us, we take them off your hands immediately. If you're in a position where you need to move into a smaller space ASAP, this offers you an ideal way to free up space in a pinch.
And speaking of our safe storage solution…
Option 2: Storing Your Firearms
Many people think that selling their firearms is the only solution if they need to downsize. However, if you've spent years building up your collection, you might not want to part with it. If that's the case, we have another option for you: GTA Guns Safe Storage.
The problem with being a firearm collector is that most storage solutions don't allow for firearms to be stored in their facilities. When we realized this, we saw a big opportunity. GTA Guns Safe Storage is the only service of its kind in Canada! 
In our facility, your firearms will be kept in optimal conditions for gun storage, with optimal temperature and humidity levels, preventing environmental damage. In addition to that, everything is fully insured, meaning that if something unthinkable were to happen, your firearms would be completely covered. And with our security measures, we can ensure that your guns are only accessible by YOU.
We offer several different storage options, depending on the number of firearms you own and whether you'll need immediate access to them. If you have a collection that you want to store long-term, you only need to call us for pick-up and drop-off. You can also choose our more flexible automated self-storage options, where you can get access to your firearms whenever you wish. We'll provide you with the security protocols that you need to manage your storage yourself. 
Whether you choose to sell your firearm collection or put it into storage, we will support you however we can. If you decide to sell, we'll work to get you the most money possible from the sale. If you choose to store, we'll keep your firearms safe for as long as they are in our care!
And if you would like to learn more about GTA Guns safe storage, auctions, or any of our other services, please feel free to contact us today!