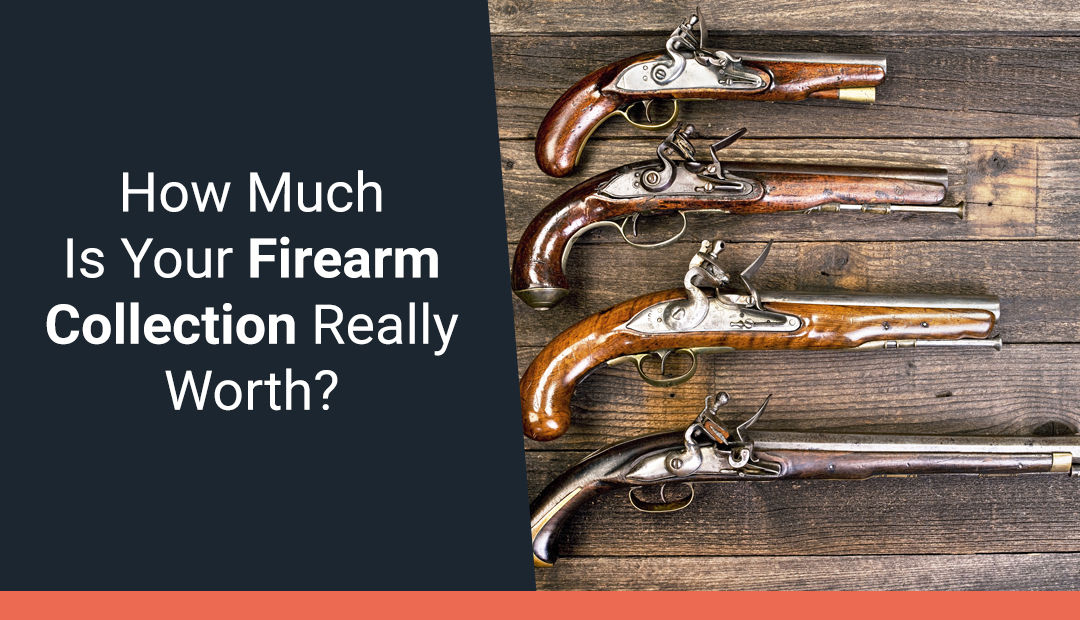 Do you know how much your firearm collection is worth today?
One of the great things about firearms is how certain guns can appreciate in value, provided that they are properly stored and cared for. If you've been collecting guns for a while, there's a good chance that market fluctuations and general appreciation could have dramatically changed the value of your collection.
But why does knowing the value of your guns matter so much? And how can you go about finding out their worth? We've got answers for you!
Knowing The Value of Your Firearm Collection
So, why is it important to know the current value of your guns? Many reasons!
If you're thinking about selling any guns, you need to know how much you should sell them for. If you're taking out insurance on your collection, you must have accurate values to know the right policy to purchase. And if you're writing your Will, knowing the value of your collection is necessary to save your loved ones and executor a lot of frustration after you're gone.
Or, hey, you might just be curious how much money you have tied up in your collection!
Firearms Assessments at GTA Guns
Whatever your reason for wanting to know what your guns are worth, getting multiple firearms assessed might seem like a big hassle. But not if you have professionals doing the work for you!
At GTA Guns, we evaluate the value of firearms every single day for our auctions. We need to know the exact condition of a firearm to provide potential buyers with an accurate description of the item they're bidding on. That means we aren't just assessing a gun based on what someone might find in a book. We're looking at it from a real-world perspective.
So, if you want your firearm collection appraised, GTA Guns is by far your best bet!
What We Offer Collectors
With our experience in working and assessing firearms for our auctions, we know exactly how to appraise a collection to determine its real-world value. You'll learn precisely how much your guns are worth in an open, competitive market! We can assess any type or class of firearm—this includes antiques, which require a very experienced eye.
At the end of this assessment, you'll receive a comprehensive report about your firearms, including their market and replacement values, along with legal and equitable options for selling all firearms currently in your possession.
We can also provide you with secure and legal transportation of your firearms, plus short or long-term storage if you need your collection out of your home for any reason. If you plan on going on vacation, for example, you can give us your firearm collection for assessment while you're gone. It will be stored in our safe storage facility to ensure all the guns are kept in optimal condition (the facility is temperature and humidity controlled). 
Not only that, but we can also assess gun-related items in your collection. If you have ammunition, hunting gear, or other similar pieces, we can include them in our assessment. 
What Should You Do After Assessment?
That all depends on why you were getting your guns assessed in the first place.
If you were thinking about downsizing your collection and wanted to know exactly how much it's worth so you can sell it, we'd be happy to help. Our GTA Guns auctions are the best way to sell your firearms and get the highest possible sale price.
If you wanted to learn which pieces in your collection were the most valuable so you could put them into safer storage, we could help there too. After all, you might not want a rare and valuable firearm stored in your home. Instead, you can put it into GTA Guns' safe storage where it will be protected from both environmental and criminal hazards. 
So, whatever your reason for wanting to assess your gun collection, GTA Guns can offer you unparalleled service and experience. Our only goal is to give you accurate information that you can then act on however you wish.
If you would like to learn more about GTA Guns auctions, safe storage, or our other services, please feel free to contact us today!