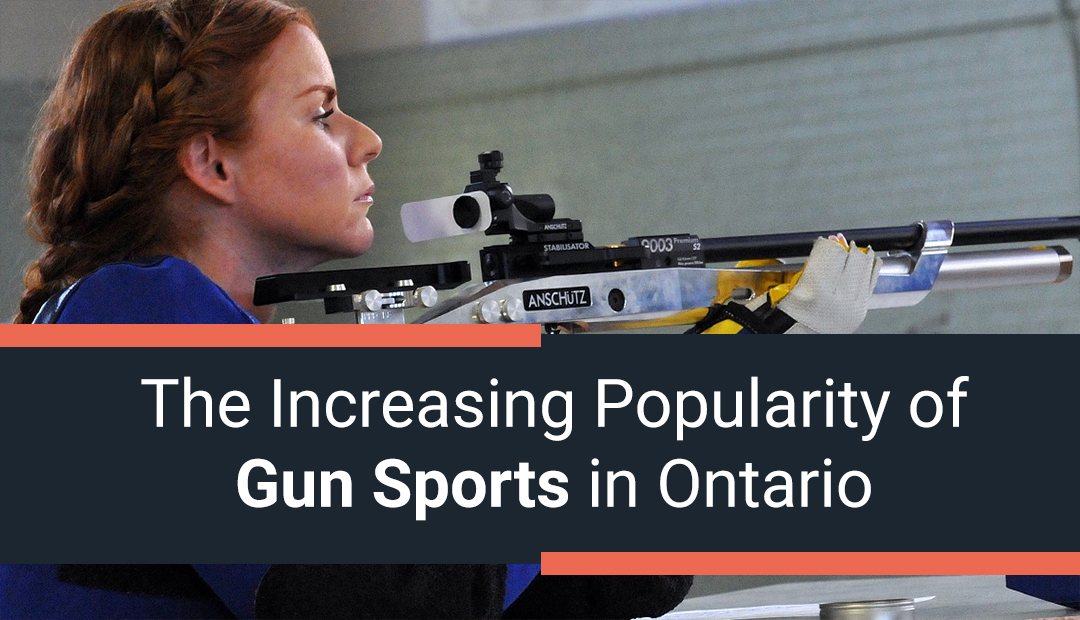 Are you ready to head out to a shooting range and have some fun?
If so, you're in excellent company! The popularity of gun sports is on the rise all over Canada, including in Ontario. Every country has their own kind of gun culture and in Canada we pride ourselves on the emphasis on sport rather than violence. Here, gun culture is based around hunting and the enjoyment of shooting sports. Gun sports are popular with men and women alike, and are family friendly too.
With membership in gun sports organizations continuing to grow, let's take a look at some of the more popular types of gun sports and how you can get more involved.
Canadian Olympic Medals in Shooting
Shooting sports get a huge boost of popularity every four years during the Summer Olympics. A part of the games since the first modern Olympics in 1896, shooting sports are popular and practiced the world over. Canada has been fortunate enough to get a total of nine medals in shooting, 4 gold, 3 silver, and 2 bronze.
One major highlight was during the Los Angeles 1984 Summer Olympics, when Canada surprised the world. Despite being considered an underdog, Linda Thom unexpectedly won the gold in shooting.
Types of Gun Sports
There are a ton of different varieties of gun sports. Bullseye shooting is fairly self-explanatory, often utilizing pistols or rifles. The point is, of course, to achieve a high score by hitting as close to the middle of a target as possible. This particular gun sport requires a great deal of accuracy, precision, and breath control.
Field Shooting is similar to bullseye shooting in that you have to hit targets, again using pistols or rifles. Unlike bullseye shooting, these targets can be at varying distances away from the shooting range, meaning that a shooter needs to have a keen eye in order to hit all of the targets.
Clay pigeon shooting, involving rifles, evolved from actual live pigeon shooting competitions in the UK. Once that sport was made illegal, clay pigeons were substituted instead of live birds. The goal of the sport is to hit clay pigeons that are launched high into the air by a machine. There are a number of variations of this type of gun sport, including the ever popular skeet shooting.
One very popular and fun form of gun sports was highlighted in our recent blog about Cowboy Action Shooting. This involves shooting targets with vintage, or vintage designed, firearms. To participate, you must be dressed in era-appropriate garb and have an era-appropriate Wild Western name, such as, say, "Black Gold Willie" or the like!
Along with national shooting organizations like the Canadian Shooting Sports Association and the Shooting Federation of Canada, there are also a number of organizations all over Ontario that promote and organize gun sports. The Ontario Provincial Trapshooting Association is the largest organization of recreational and competitive trapshooters in Canada. The Ontario Rifle Association often holds shooting events all over the province. And the International Practical Shooting Confederation of Ontario is our chapter of a worldwide organization dedicated to promoting and advancing the art of shooting. All are wonderful organizations!
At GTA Guns, we have our finger on the pulse of gun sport popularity, as we often talk to many of the people who are most active in the community. With the increased popularity of gun auctions, we've also seen a major increase in interest in gun sports. If you'd like to talk to us about our gun auctions or simply wish to "shoot" the s#%t about gun sports, please contact us today!