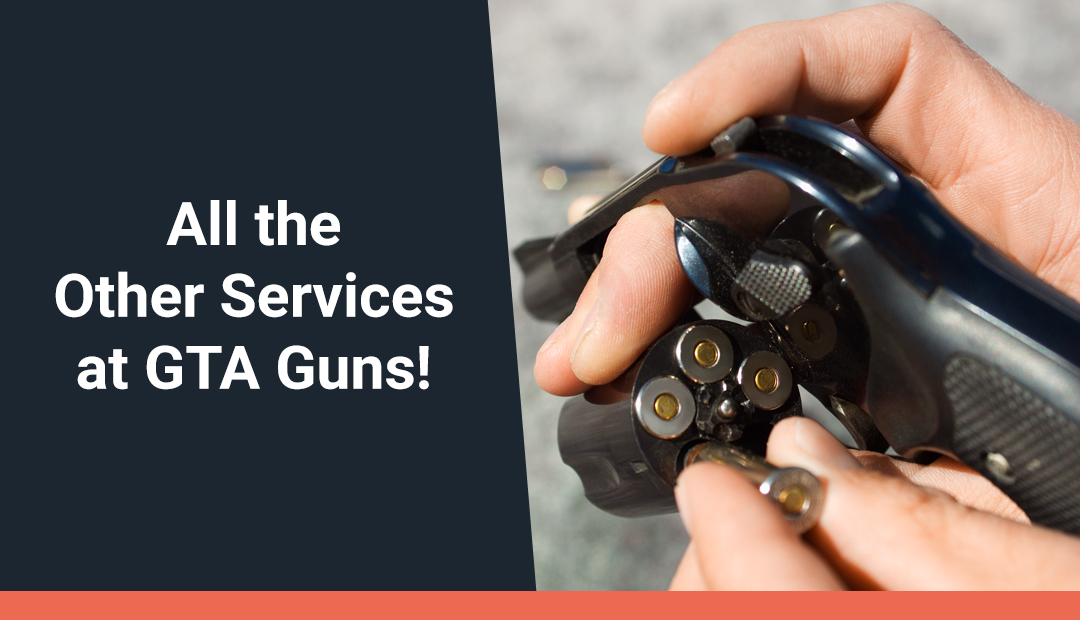 Do you know that GTA Guns offers much more than just firearm auctions?
We started GTA Guns because we love firearms! Working with passionate collectors to buy and sell guns is a dream, and one that we've realized with our online auctions. But our auctions aren't the only service that we offer firearm owners in the GTA and wider Ontario:
When we started GTA Guns, we realized that we would need a safe place to store the firearms placed in our care during our gun auctions. We wanted a facility that kept the firearms at optimal temperatures and humidity levels, and we also wanted the facility to keep the firearms secure.
We soon discovered there was a major market for this kind of service in the firearm collector community! Firearm collecting can take up a lot of space, especially if you plan to keep your guns safe from both thieves and environmental damage. Of course, you could always buy a gun safe, but those are both very expensive and massive. For us, the obvious solution was to start offering secure gun storage to firearm owners across the GTA!
With GTA Guns Safe Storage, all firearms are kept in a climate-controlled and dehumidified facility, protected with four security levels. The entire facility is insured, so you would be fully covered if anything were to happen. If you're looking for long-term or short-term storage, GTA Guns has you covered—you only need to give us a call to pick up or drop off your firearms, and you're all set.
If you'd prefer to come and go as you'd please, you could also try our automated self-storage option. With automated self storage, you can deposit or access your guns at any time that is convenient for you.
No matter what storage option you choose, you can be sure that GTA Guns will be taking excellent care of your firearms, ensuring their safety and value so long as they're in our care!
No matter how careful you are with your firearms, it's an unfortunate reality that things can break. Even if you keep your firearm in a safe and regularly do maintenance, a single issue can result in a big problem with your gun.
If that happens—or if you simply feel like giving your firearms an update—you should take them to a gunsmith. At GTA Guns, our gunsmith, David Battiston, has decades of experience diagnosing, repairing, and upgrading all firearms classes. In fact, we at GTA Guns used him to maintain our personal guns even before we started the business!
Whether you need something as basic as a cleaning and test fire, or you're looking to blue your firearms, GTA Guns gunsmithing can help!
Ever wonder just how much your firearm collection is actually worth?
Over time, the value of guns can fluctuate, depending on their condition and the market. So if you bought a firearm a few years ago and are curious how much you could get for it today, why not get it appraised by our professional and knowledgeable team?
This service includes a formal inspection and assessment of many different types of firearms, including antique pieces. You'll get a comprehensive report of your gun, including its market and replacement value. We'll also help you find legal and equitable options for selling the firearms in your possession.
Most people will likely be familiar with silent auctions from local fundraisers. There will be a long table filled with items, each one with a clipboard in front of it. A person writes down their name and bid for each item they want. If someone else comes along and thinks, "I can afford a bit more than that," they'll put their higher bid below the previous one. Whoever has the highest bid on the list wins the item!
Well, at GTA Guns, we have a similar procedure for some of our more high-value items, though it is done entirely online. If a firearm has a value of more than $5,000, we'll often list it in the silent auction format rather than our regular GTA Guns auctions.
Like all items we sell, each gun in our silent auction is put through our proprietary GUNCHECK™ and CYCLECHECK™ verification services to ensure its condition. The authenticity of the firearm is guaranteed for 30 days following your purchase for a full refund. Additionally, a 10% buyer's premium, cost of shipping—if necessary—and local taxes will be charged if you win the auction. All you need to do for the silent auction is provide your name, email, and bid, and you could win some very high-value items! Be sure to check these silent auctions regularly if you're an avid collector of rare and unique firearms!
Buying and selling firearms is only the beginning here at GTA Guns! Whether you need a storage solution for the long-term, want to know how much your firearms are really worth, or need some repairs, our variety of gun services are exactly what you're looking for! If you want to learn more about our online firearm auctions or any other services, please feel free to contact us today!