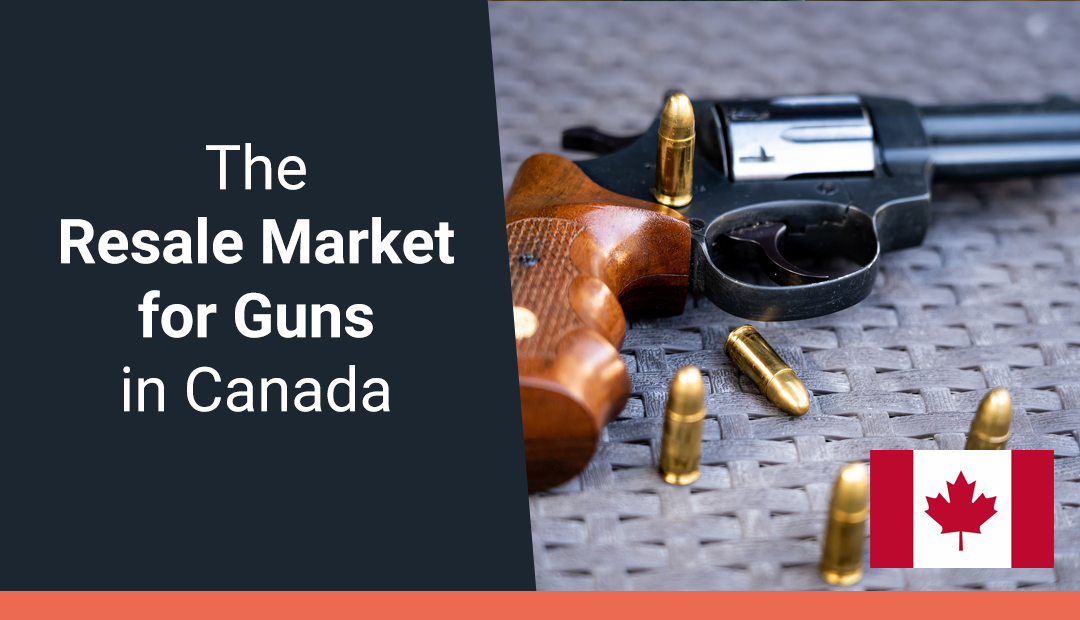 Do you ever wonder what the gun resale market is like in Canada?
Due to more relaxed firearm laws in the United States, the resale of firearms tends to be a little more common south of the border. Gun shows and other regional events in the U.S. offer firearm enthusiasts an opportunity to purchase used guns of all shapes and sizes. Here in Canada, however, things are a little more regulated.
So, where does that leave you if you want to purchase a previously owned firearm? Actually, you have a ton of options… some better than others!
Firearm Stores
If you're looking to sell your firearms, you always have the option to go to a gun store. However, you can't simply walk into any old gun store and get cash for your firearms!
Many firearm stores only have new stock and don't have any interest in buying from collectors. Thankfully, many stores both buy and sell firearms, but as per usual, let the buyer—and seller—beware.
The #1 rule of running a successful business is to purchase stock at a lower value to sell to their customers at a reasonable markup. As a result, if you take your firearms to a gun store, chances are that they're going to give you a lower quote for your firearms than they're worth. They aren't trying to scam you; it's simply the rules of commerce!
To proceed with the sale, you must present the gun store clerk with your valid PAL license to ensure that the firearm is actually yours. You can then get your cash. It's likely a quick process, but you're going to be walking away with less money than you have if you had tried other methods to sell your firearms.
Online Forums and Posting Sites
Here's the bad news: you cannot list your used firearms on popular auction and classified sites like eBay or Kijiji. Most sites like these have rules against selling firearms. The good news is that there are still lots of alternatives to those sites with varying degrees of respectability and safety!
The biggest risk when you're selling your own firearms online is that you could get scammed. It's challenging to verify someone's identity online, and if you're selling to a person you've never met before, they could end up walking away with both their money AND your gun.
Second, do you know how much your firearms are actually worth? Unless you've gotten them appraised and their condition checked, you might be selling them for far less than they're worth. Many of our clients have been shocked by the prices their firearms should fetch when they take them to us!
Finally, you also need to know quite a bit about the process of buying and selling firearms, as you'll need to do all of the paperwork and transfer the license yourself. You even need to take all of the photos of the guns to post on the site! All in all, it's a very involved process that can take up much of your time and cause unnecessary stress, but it hopefully leaves you walking away with a reasonable amount of money.
Online Firearm Auctions
And now we come to GTA Guns. In our option, it's the absolute best and safest firearm resale option in the country!
Our firearms auctions are incredibly safe for both buyers and sellers because of us—the folks facilitating the sale! Rather than you needing to navigate selling your firearms, we take care of everything. All you need to do is drop your guns off at our location, and we take care of the rest. Your job as the "seller" is finished!
First, we run your firearms through our proprietary GUNCHECK™ and CYCLECHECK™ assessments to determine the guns' exact condition. We then take high-quality images, including photos of the internals of the firearms, to post on the auction listing so buyers can see exactly what they are bidding on. We also write the listing information!
Once the auction starts, you just sit back and see who bids on your firearms. And once the auction is finished, we send you the money and take care of all the paperwork, such as that involved in transferring the license. It's honestly that easy!
But what if the buyer isn't happy with their purchase for whatever reason? Does that mean they'll come knocking on your door looking for a refund? Nope, that's our responsibility too! We offer two unparalleled guarantees to our buyers:
If the firearm arrives at the buyer's door in less-than-perfect condition, they can send it back to us (we pay shipping both ways), and we'll repair the gun for free (30-days max).
If the firearm arrives at the buyer's door and it isn't what they were expecting, they can send it to us, and we'll relist it in the next auction with no seller's fees (30-day max, +$3000 hammer price).
The best part is that, as the seller, neither of these guarantees have anything to do with you! Your job in the sale is already complete, so you don't even need to know about any potential problems. We handle it all, no sweat off your back!
If you have been thinking about selling your firearm collection for any reason, GTA Guns is the solution you've been looking for. It's incredibly safe, you don't need to lift a finger for the majority of the sale, and you're likely going to be walking away with more money than you would from a gun store. If you have any questions about our online firearm auctions, please don't hesitate to contact us. And if you'd like to learn more about any of our other services, please feel free to contact us.