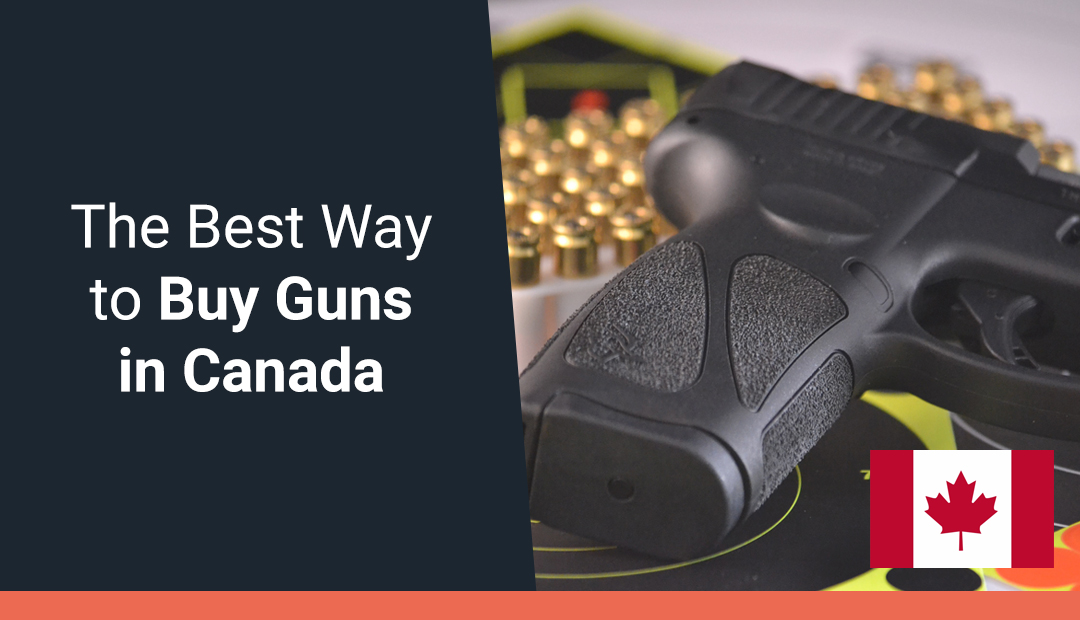 You want to buy a gun, but where do you go?
The first place you likely thought of was probably the gun store. But are gun stores really the best place to buy your firearms?
Firearm stores are likely going to have a limited selection of items that appeals to the vast majority of customers. If you're looking for something a little rarer or more interesting, you might be out of luck.
So, what do you do if you're looking to purchase a new firearm to add to your collection, but gun stores just aren't cutting it? That's easy! You go online!
Buying Online
Purchasing your firearm online is very convenient. Rather than needing to head out to the store, you can simply order your firearm online and have it be delivered to you. But that's where things can get tricky.
You can't go on eBay or Kijiji and take a look around for firearms available in your area. Both well-known classified sites prohibit the sale of firearms due to safety concerns. For instance, if a firearm was sold on their platform and was then used in a crime, they could be held partially liable.
There are also much less reputable online classified sites that don't have the same buyer protection standards as eBay or Kijiji. For buyers, attempting to purchase a firearm through these channels can be dangerous in more ways than one. You could be scammed out of your money, and that's one of the best-case scenarios. What if you were to purchase an illegally obtained firearm that was previously used in a crime? That's a situation that you want to avoid at all costs!
Buying Through Online Auctions
The beauty about services like eBay is that these sites act as the middleman, protecting buyers from being scammed by less-than-trustworthy sellers. But even eBay isn't checking every item to make sure that it meets their high standards.
Guess who does? We do!
GTA Guns guarantees that the firearms and other items you purchase through our auctions will meet your high standards. When our sellers give us their firearms to list on our auction site, we put them through our proprietary GUNCHECK™ and CYCLECHECK™ verification processes.
With GUNCHECK™, our experienced gunsmiths go through every firearm we sell to determine their exact condition, inside and out. We then compile a comprehensive report on the firearms, including high-resolution images and fiber-optic bore pictures so that buyers can see precisely what they're bidding on.
With CYCLECHECK™, we put every semi-automatic firearm we sell in our auctions through testing to make sure they shoot properly. We even take high-quality footage of these tests so that potential buyers can see that the firearms work as they are supposed to.
Both of these proprietary inspections are done on our dime, not yours. We want to be 100% sure that every item we sell meets our—and your—standards.
But what if they don't? Well, that's where our industry-leading guarantees come in!
The Best Firearm Auction Guarantees
While there are a LOT of reasons why we think GTA Guns auctions are the best way to buy guns in Canada, there are two specific reasons that put us over the top: our two buyer guarantees!
If you purchase an item from GTA Guns auctions and it arrives in any state other than specified in the sale, send it right back to us. We'll repair the firearm free of charge, being sure to pay the shipping both ways (30-days max).
If you purchase an item from us and it isn't exactly what you expected, you can send it back to us, and we'll relist it in our next auction with no seller's fees (30-days max, hammer price +$3,000).
These two guarantees mean that there's absolutely no risk to you as a buyer, unlike many other online outlets. We'll do anything to make sure that you're happy with the sale!
Here's the thing: there are many ways to buy guns in Canada. But only GTA Guns provides you with unparalleled guarantees, detailed checkups on every item we sell, and the potential to find incredible deals in our auctions! If you'd like to learn more about GTA Guns auctions, or any of our other services, please feel free to contact us.